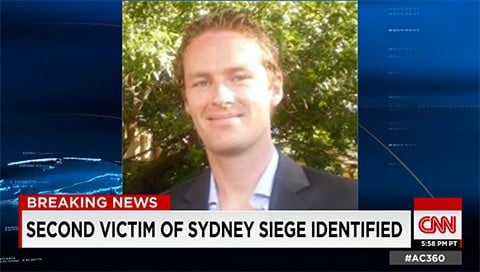 Tori Johnson, the cafe manager of the Lindt Chocolate Cafe in Sydney, Australia, was killed yesterday as he fought off an armed terrorist who took the cafe and its patrons hostage. Johnson was trying to disarm the terrorist to provide cover for the other hostages as they fled during a moment in which the terrorist fell asleep. Johnson is being praised as a hero whose actions "certainly saved many lives," as Don Baxter of the Australian Federation of AIDS Organizations put it. From an op-ed in The Huffington Post by James Peron:
Tori Johnson was 34. He managed the Lindt Chocolate Café for two years. Employees and customers all said he was a good man, a kind man. He was also a gay man.
Johnson tried to take the gun to protect the other hostages as they fled, but he was shot in the attempt. His attack distracted the terrorist. The others escaped and the sound of the gunshot brought in the police, who killed the armed man. Another hostage also died on the scene, but of a heart attack on the way to hospital after being shot.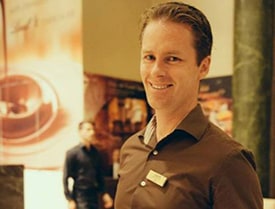 Tori is survived by his partner of fourteen years, Thomas Zinn:
Tori's partner Thomas, and his family, issued a statement: "We are so proud of our beautiful boy Tori, gone from this earth but forever in our memories as the most amazing life partner, son and brother we could ever wish for."
As NewNowNext notes, the terrorist responsible for the attack, "Monis, [was] a radical Muslim cleric from Iran…He was killed when police raided the cafe. Five hostages were injured, as well, as was a police officer, who suffered minor injuries from gunshot pellets to his face."
James Peron's op-ed in The Huffington Post draws attention to the political climate that surrounds Johnson's death. A gay man who died a hero, Johnson nevertheless died a second class citizen as Australia does not allow same-sex couples to marry. He and his partner were never afforded full equal rights under the law. Though Australian Prime Minister Tony Abbott praised Johnson as "good people" and commended him for his heroism, Peron points out,
"Yes, Tori was good people, but to Abbott he still wasn't good enough, at least not when it came to marriage…If Abbot wishes to honor the heroism of Tori Johnson he should push for marriage equality. At the very least, he should get [out] of the way and allow his own party caucus freedom to vote their conscience."
Watch a news report on Johnson's death and the siege that ensued at the cafe in Sydney, AFTER THE JUMP…