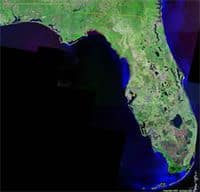 A survey by the Associated Press has found that an overwhelming majority of county clerks in Florida say they will not offer marriage license to same-sex couples on January 6 without further clarification from Judge Robert Hinkle.
Hinkle's stay on his August ruling overturning the state's gay marriage ban is set to expire 5pm on January 5 after the 11th Circuit and the Supreme Court both declined to intervene and extend the stay further. However, there remains confusion about whether Hinkle's ruling applies to only Washington County or to the entire state. 
The AP reports:
The association representing Florida's clerks has issued an opinion that the ruling doesn't apply to other counties, and said clerks can be prosecuted for violating the law if they issue same-sex marriage licenses. Most Florida's clerks are following that advice.
"I'm not going to break the law," said Paula O'Neill, the clerk for Pasco County, in the St. Petersburg area. "I'm not going to issue licenses until it's legal."
Of the 53 clerks who responded to the AP survey, 46 said they wouldn't grant marriage licenses to same-sex couples because they lack legal authority. Six clerks said they hadn't made up their minds; Only one clerk outside Washington County, Osceola County's Armando Ramirez, said he would issue the licenses.
Equality Florida and the National Center for Lesbian Rights, however, are disputing the county clerk association's opinion, saying that the federal ruling applies statewide. The groups have issued a letter to Florida county clerks stating the clerks are "compelled and certainly permitted to issue marriage license to same-sex couples beginning January 6, 2015."
Judge Hinkle, meanwhile, has given Florida officials until Monday to respond to a Washington County Clerk's motion to clarify the scope of his ruling. 
And although Attorney General Pam Bondi has acknowledged the stay on Hinkle's ruling ends January 5, she has yet to make any effort to help clarify this ongoing legal chaos in her state. 
Read the NCLR and Equality Florida letter below: