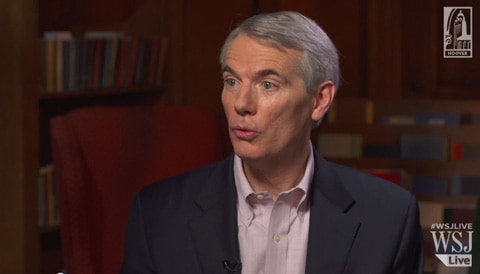 Republican Senator from Ohio Rob Portman announced yesterday that he would neither seek nor accept his party's nomination for President of the United States in 2016. Portman also made clear he was not interested in being considered as a Vice-Presidential running mate in this next national election cycle. Portman was considered on the short list to fill the VP slot in both 2008 and 2012.
The Wall Street Journal reports:
Mr. Portman said he'll seek re-election to a second Senate term, where his party has won a majority for the first time since he has been in the Senate. He served in a House GOP majority during most of his 12 years in that chamber.
"While I appreciate the encouragement I have received from many to run for president, my focus will remain on Ohio and running for re-election to the Senate in 2016," he said in a statement. "I look forward to formally announcing my re-election campaign in the new year."
Portman notably came out in favor of marriage equality after his college-aged son came out to him. Portman was the only serious Republican contender who had endorsed same-sex marriage. 
Portman was seen by many as an attractive candidate for the GOP because of his reputation as being one of the "Senate's more deliberative center-right members", according to the AP, and being from the crucial swing-state of Ohio. However, had Portman decided to make a run for the White House, his path to his party's nomination would not have been unobstructed. Brian Brown and The National Organization for Marriage (NOM) announced they would go after Portman if he ran in 2016 because of his views on marriage equality:
"Rob Portman can forget about getting elected President of the United States," Brown said. "If he runs we will make sure that GOP primary voters are aware of his desire to redefine marriage and his willingness to see federal judges set aside the votes of 50 million Americans who enacted marriage amendments across the country because his son is gay. Rob Portman's son has a right to live as he chooses, but that does not give his father the right to redefine marriage."
Portman himself made note of how difficult a national bid would prove for him, given his views on marriage equality:
"It puts me at odds with my party in many respects. I believe it's a conservative position…I never really thought deeply about it [before my son came to me]. It seems to me to the extent that it's not a choice, which is what believe. That is, Republicans ought to treat people as they are…It probably makes it difficult for me to win the primary election at a national election."