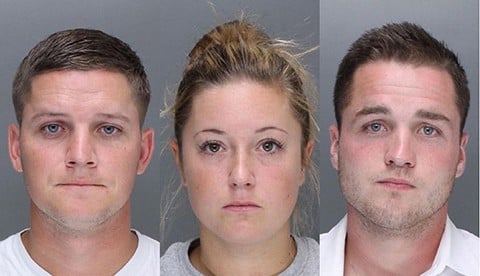 The trio of individuals accused in the September 11 assault on a gay couple in City Center, Philadelphia, are in court today for a preliminary hearing. The defendants, 26-year-old Kevin Harrigan, 24-year-old Kathryn Knott, and 24-year-old Philip Williams, are accused of aggravated assault, simple assault, recklessly endangering another person and criminal conspiracy. All three have plead not guilty.
Here's what we can expect to happen: The case will be brought before a municipal court judge to determine if there was probable cause to arrest the suspects in September. Attorney for Kevin Harrigan, Josh Scarpello, tells me, "we won't decide the truth of the matter in that first hearing. It is a probable-cause hearing to establish if the case should go to trial."
If the case goes to trial — and if no plea bargain is reached — Scarpello suggests that there might not be a trial date until well into the new year. "The earliest would be February or March," he says. "If it's scheduled to be a jury trial, it could take even longer."
The AP also reports that the defendants contest the plaintiff's version of the assault: "Defense lawyers insist that both parties played a role in the encounter, and say the men's sexual orientation wasn't an issue." Despite these claims, reports have abounded that the fight was preceded by homophobic slurs hurled against the victims by the defendants. You'll also recall the social media sleuthing done by activist Scott Wooledge who dug into accused attacker Kathryn Knott's Twitter account and found a history of homophobic remarks.
Social media played a large role in the case from the onset, with the individuals being identified by social media sleuths looking to hunt down the perpetrators of the heinous assault.
The accused will not face hate crimes charges as Pennsylvania does not currently have hate crimes legislation on the books that covers sexual orientation. However, that may change if State Rep. Brian Sims and State Sen. Jim Ferlo have their way.
Watch a news report on the hearing, AFTER THE JUMP…