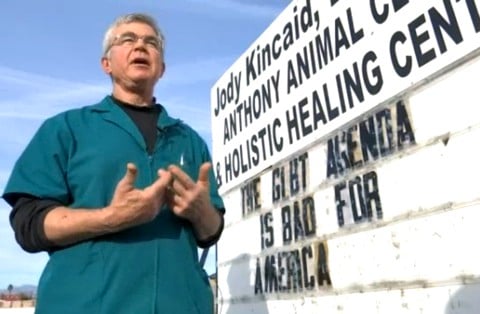 The proprietor of a Texas animal clinic has put up a sign outside his business saying, "The GLBT agenda is bad for America." 
Jody Kincaid put up the sign outside the Anthony Animal Clinic in Anthony, Texas, just north of El Paso. KFOX Channel 14 reports: 
"People have the right to be gay, and I would protect that in anyone's life," Kincaid said. "At the same time, the gay movement has no business coming into a business and saying you have to do business the way we tell you."

The Anthony veterinarian said he was only practicing his freedom of speech.

"The messages I put up are part of everyone's First Amendment," Kincaid said.
The sign has prompted an openly gay employee at the clinic, Nick Diaz, to quit his job, KFOX reports: 
"It just made me very sad that he would put a sign, an anti-gay sign, knowing that I'm an openly gay person and it would hurt my feelings," Diaz said.

Diaz said that same day Kincaid had talked to him about how his performance had been slipping at work. But Diaz said the message on the marquee is the reason he quit.

"My decision to leave was due to me feeling pretty much discriminated and sad to be at a place I felt not welcomed," Diaz said.
According to its website, the Anthony Animal Clinic offers "quality health care for both pets and people" — and specializes in holistic and homeopathic medicine, including herbs, acupuncture and nutrition. 
Kincaid is of course correct that he has every right to put the sign.
However, 21 states have laws barring business owners from turning away customers based on their sexual orientation, and courts have upheld them.
Unfortunately, Texas isn't one of them. Texas also doesn't have a law prohibiting anti-gay job discrimination, meaning Diaz likely can't sue Kincaid in state court.  
Several cities in Texas have added LGBT protections, prompting Republican state lawmakers to file "license to discriminate" bills that would undermine them. 
The key question is whether Kincaid thinks it should be legal for businesses to turn away blacks. And indeed, the most telling part of the KFOX report may be when it briefly shows the opposite side of his sign, which reads, "Why is our leader promoting racism?"
In case you're wondering, the Anthony Animal Clinic's Facebook page is here. 
Watch KFOX's report, AFTER THE JUMP…