As gay couples in Florida prepare to tie the knot starting next week, the number of county clerks that have chosen to end all courthouse weddings has grown to 14, The Tampa Bay Times reports: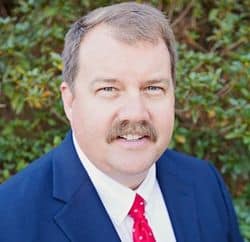 Nearly all of them have changed their policies since August, when U.S. District Judge Robert Hinkle of Tallahassee ruled the state's gay marriage ban unconstitutional.
Several clerks, including Okaloosa County's J.D. Peacock II (right), have acknowledged that Hinkle's decision played a major role in their decisions.
"I do not want to have members of our team put in a situation which presents a conflict between their personal religious beliefs and the implementation of a contentious societal philosophy change," Peacock wrote recently in a memo to his staff.
Although there is no authoritative list of the Florida counties that have stopped offering courthouse weddings, the counties that confirmed their decisions to the Tampa Bay Times and other news outlets include: Santa Rosa, Okaloosa, Holmes, Washington, Jackson, Calhoun, Liberty, Franklin, Wakulla, Baker, Clay, Duval and Pasco.
Pasco County Clerk Paula O'Neil said cancelling all wedding ceremonies was "an easy decision to make" in light of the extra workload her office would be faced with and the fact that most of her staff said they would be "uncomfortable" officiating same-sex weddings.