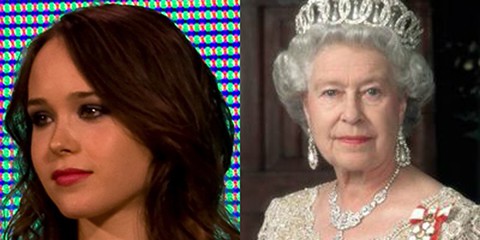 Actress Ellen Page took to her Twitter account to voice her displeasure with the Queen of England who gave a prestigious award to a blatant anti-gay politician reports Styleite. Queen Elizabeth II awarded Maurice Mills, a Democratic Unionist Party councillor of Northern Ireland, with the Member of the Most Excellent Order of the British Empire for his services to local government. Mills is known for blaming natural disasters, like Hurricane Katrina, on gays and saying AIDS is a consequence of the practice of sodomy.
"The Queen honored a politician who blamed Hurricane Katrina & AIDS on LGBT people: http://t.co/XoemvNNz1w pic.twitter.com/dYn21wIZuD" fuck that

— Ellen Page (@EllenPage) January 5, 2015
Page is having none of it, saying "F*** that," citing a Vice News story about the Queen and Mills in her tweet. There's a petition to get Mills' award retracted; it currently has 369 signatures. A Belfast Telegraph article disagrees saying Mills deserves the honor. The move is disappointing as the Queen expressed support toward the gay community in the past, to say nothing of her lashing out at New Jersey Gov. Chris Christie for "lacking the guts," to legalize gay marriage, going so far as to say "Just sign the damn bill, Chris." It's unclear if the Queen truly supports Mills' views or was simply being "diplomatic," awarding Mills for his work in government and not his archaic views on the gay community.