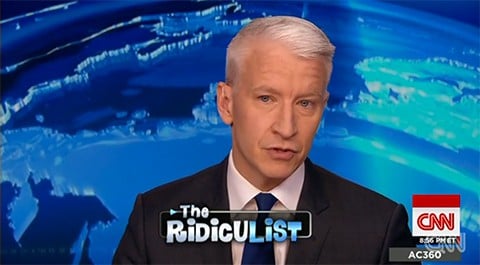 Anderson Cooper addressed anti-gay pastor Larry Tomczak and his ridiculous allegations about media and the "gay agenda" yesterday in his "Ridiculist" segment. You'll recall that Tomczak accused Cooper of "boasting" about his sexuality, alleged that Ellen DeGeneres has Taylor Swift on her show to lure young girls, and suggested that kids watch classic television shows like "I Love Lucy" and "Leave It To Beaver" to avoid the gay brain-washing endemic in contemporary popular media.
Cooper snarked, "I've never actually been to the secret meeting where the gays plot their agenda, though I imagine the catering is quite amazing. But thanks to someone named Larry Tomczak, my eyes have been opened." Cooper then took Tomczak to task for his obsession with 'gay TV' and his belief in the deviance of "the gay lifestyle," saying that what gay people want is not to indoctrinate children but rather "to be able to live their lives with the same kinds of rights and responsibilities as everyone else."
Cooper goes on to suggest Tomczak watch TLC's "My Husband's Not Gay" to see homosexually-oriented men denying their impulses. Cooper skewers the more absurd suggestions put forth by some of the men on that show. For instance, that you can't be a father and have children and be called "Daddy" if you're gay: "If you're a gay guy who wants to be called 'Daddy' you don't necessarily have to be married to a woman. I'm just sayin'." And as for the suggestion made by one "not gay" Mormon husband that homosexuality is like having a perpetual craving for donuts? Cooper quipped, "Who's the donut in that analogy by the way? I think he needs to throw something else in there, perhaps a bear claw."
Watch the spot on skewering, AFTER THE JUMP…