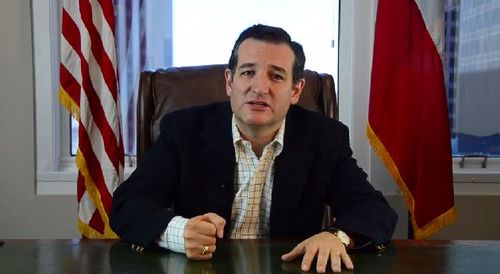 Ted Cruz is undoubtedly making Papa proud. 
The anti-gay Texas tea party senator, whose bigotry at times seems matched only by his father Rafael's, has managed to capture both The Advocate's Phobie Of The Year Award and People For The American Way's Equine Posterior Achievement Award for 2014. 
The Advocate, which previously named Russian President Vladimir Putin its Person Of The Year, says it tapped Cruz for the Phobie honor based on his introduction of the State Marriage Defense Act, also known as "DOMA 2.0," in February: 
Now if a same-sex couple gets married in New York, for example, and then moves or visits Cruz's home state of Texas, the federal government continues to recognize their marriage as legal. But Cruz says those couples should only be considered married when within the borders of a state that recognizes marriage equality. 

As you might expect, the Tea Party favorite has blamed federal marriage recognition on President Obama and "an out-of-control administration" that is "trying to force gay marriage on all 50 states." … 

Cruz took his idea even further in October, after the Supreme Court refused to overturn lower court rulings favoring marriage equality, and he promised to introduce an amendment to the U.S. Constitution that would bar courts or the federal government from ever overturning a marriage law made at the state level. 
Other 2014 Phobie Awards went to Gambian president Yahya Jammeh, televangelist Pat Robertson, reality TV stars Jim Bob and Michelle Duggar, Texas Republican Congressman Louie Gohmert, U.S. District Court Judge Martin Feldman, Phil Robertson of "Duck Dynasty," Family Research Council President Tony Perkins, Florida Republican Attorney General Pam Bondi, Colorado Republican State Rep. Gordon Klingenschmitt, Republican National Committee member Dave Agema, Kansas Republican Gov. Sam Brownback, radio commentator Linda Harvey and the Minnesota Child Protection League. 
Right Wing Watch reports that Cruz captured the Equine Posterior award for the second consecutive year by a 21-point margin in a poll of PFAW members and RWW readers: 
An anti-gay crusader, Cruz threatened civil disobedience to block the enforcement of gay rights measures, introduced new measures to prevent marriage equality, said same-sex marriage is "heartbreaking" and causes his heart to weep and alleged that gay rights laws will put pastors in prison.