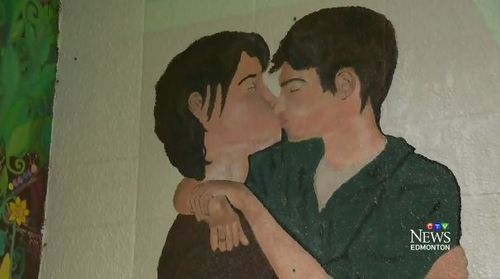 Students at Onoway Jr/Sr High School in Edmonton, Alberta are pushing back against an administrative decision to cover up one student's mural depicting two boys kissing, CBC reports:
"At the time we should have put more thought into the bigger picture," said principal James Trodden.
"There are a bunch of issues … What is appropriate? Should it be in a school, should you allow kissing?" he asked.
"Should you allow same sex couples to have a picture of kissing?"
The mural was hidden from view with a bulletin board, but students angry with the censorship removed the board Thursday. The mural is uncovered for now and the principal has said he hasn't yet decided if it will stay up when classes resume Monday. 
On Friday, a Facebook group entitled "Petition for OHS painting" was created to help build support for 16-year-old Kaela Wilton's mural. 
CTV News reports: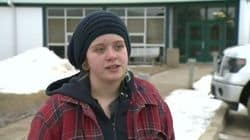 Wilton told CTV Edmonton that when she pitched the concept a few weeks ago, her art teacher and principal gave their approval. Her painting, which features two men embracing and exchanging a kiss, was inspired by her desire to deliver a positive message about gay rights.
"I wanted to do something controversial," she said.
"Gay rights are something I've always felt strongly about," she added.
The school has a long tradition of allowing art students to empress themselves on school walls.
Wilton is in the process of creating a cover up for the mural in case it is censored permanently. She added:
"I want the comfortable to feel uncomfortable and the uncomfortable to feel comfortable."
Watch a CTV report on the story here.