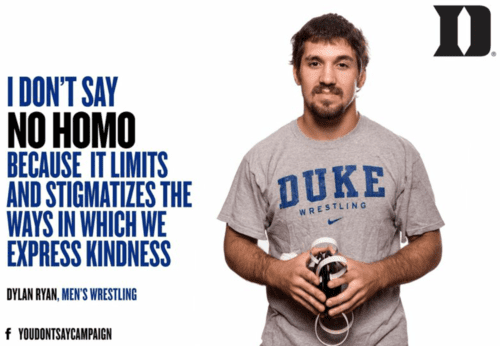 An ad campaign started by a group of college students to bring awareness and combat words that marginalize and belittle people based on their sexual orientation, gender, race or disability has now blossomed to include 41 student-athletes from Duke University reports Outsports. The athletes pose in uniforms and training outfits next to words they don't say and why they don't say them. The campaign was founded by senior Daniel Kort and juniors Anuj Chhabra, Christie Lawrence and Jay Sullivan and on Jan. 7 issued its second online push featuring the student athletes.
Said Kort:
"Sports are really integral to our campus culture, and with that comes a pretty big microphone around our athletic culture. It's easier to dismiss a message if it's coming from a social justice-oriented group on campus…by getting people who aren't traditionally seen as the social justice kids on campus to stand up for this message, it carries a lot more weight. It's also that these student-athletes care a lot about the issues."
Kort and his collaborators work received national recognition from the Huffington Post and CNN. Although a sizable portion of the campaign deals with homophobic terms, other ads tackle racist terms such as "oreo," and "illegal alien," sexist comments including "man up," and "they asked for it," and mental illness pejoratives such as "psycho," and "retarded."
Of course, the worthwhile campaign is already receiving detractors attempting to tear down the campaign's message. Those who oppose "You Don't Say" claim the campaign is based on censorship and the project is a "hypersensitive" attempt to limit free speech. Kort said that last time most of the negativity came from Facebook, although after the relaunch, detractors have taken more to Twitter to combat the project. Kort and Sullivan have been adamant throughout their two campaigns that the project is not meant to censor speech, but rather to bring a new light to the way students use it. With the student-athletes support, it seems the message is clearly heard on Duke's campus.
You can follow the "You Don't Say" campaign on Twitter.