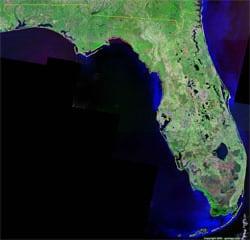 In a New Years Day ruling, U.S. District Judge Robert Hinkle has said all clerks in the state are bound by the U.S. Constitution to issue marriage license to same-sex couples starting January 6.
Confusion over the scope of Hinkle's August ruling striking down Florida's same-sex marriage ban had previously led many county clerks to announce they would not be issuing licenses to gay couples next week. 
The Miami Herald reports:
The preliminary injunction now in effect thus does not require the Clerk to issue licenses to other applicants," Hinkle wrote in an order released Thursday afternoon. "But as set out in the order that announced issuance of the preliminary injunction, the Constitution requires the Clerk to issue such licenses."
Said Howard Simon, executive direction of the ACLU of Florida: "This is a New Years Day present from federal Judge Robert Hinkle – he has given Florida the roadmap to an orderly transition to being a state that treats all its people equally."
Update I – NCLR reacts:
"Today's ruling confirms that all Florida county clerks must comply with the federal Constitution by issuing marriage licenses to qualified same-sex couples beginning on January 6, 2015," said Shannon Minter, Legal Director of the National Center for Lesbian Rights, which filed an amicus brief on behalf of Equality Florida Institute Monday urging Judge Hinkle to confirm the statewide scope of his earlier ruling. "This is a great victory for same-sex couples and their families throughout Florida."    
Update II – Florida AG Pam Bondi has issued a statement:
Following significant public confusion about the federal-court injunction, the court today granted the clerk of court's request for clarification. In the order, the court specified that the injunction does not require a clerk to issue licenses to same-sex couples other than the plaintiffs, but the court stated that "a clerk of court may follow the ruling, even for marriage-license applicants who are not parties to this case." Attorney General Bondi's statement is as follows:
"This office has sought to minimize confusion and uncertainty, and we are glad the Court has provided additional guidance. My office will not stand in the way as clerks of court determine how to proceed."
Here's Hinkle's ruling via Equality Case Files:
In related news, three bigoted Florida county clerks have decided to end all courthouse wedding ceremonies in their respective counties rather than share space with gay couples tying the knot.