Three term New York governor Mario Cuomo has passed away at the age of 82, family sources have confirmed to news outlets.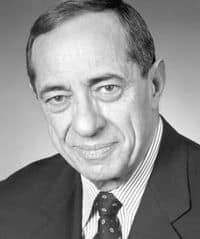 NY1 reports:
This comes just hours after Andrew Cuomo was publicly inaugurated for his second term as the 56th governor of New York.
Governor Cuomo said in his speech at One World Trade Center that his father was unable to attend because he was too ill. He also said he and his family had spent New Year's eve with the senior Cuomo.
Cuomo, who served as governor from 1983-1994 and as keynote speaker at the 1984 Democratic National Convention, was known as an eloquent spokesman for progressive causes. 
One of Cuomo's more notable spats during his three decades in politics was with former New York City mayor Ed Koch, who challenged Cuomo for the Democratic Party's nomination in the 1977 NYC mayoral race. During the campaign, signs appeared on city streets saying "Vote for Cuomo, not the homo" in reference to Koch's rumored sexuality. Cuomo categorically denied responsibility for the signs, but Koch maintained a grudge against Cuomo and his son Andrew.
Cuomo had been hospitalized last month for a heart condition.