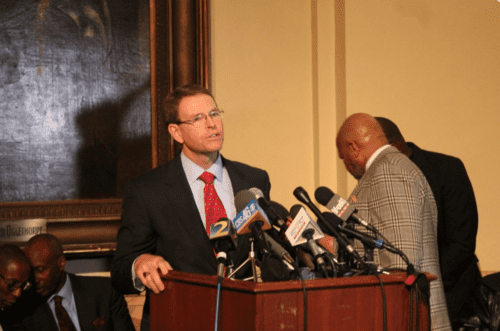 (photo by Patrick Saunders)
Another conservative is coming to the defense of fired Atlanta Fire Chief Kelvin Cochran with Tony Perkins of the Family Research Council comparing the chief's firing to the attack on Charlie Hebdo in Paris that left 12 dead reports On Top Magazine. Right-wing media, including Perkins and radio host Erick Erickson, have an odd fixation with capitalizing on the Charlie Hebdo tragedy and using it in comparison with former Chief Cochran's firing. Although Atlanta Mayor Kasim Reed has clarified that Cochran's firing was a result of the chief not following protocol, Perkins is saying Cochran's case is a matter of "free speech under attack."
Said Perkins:
"Make no mistake about it. Last week's violent assault was designed to intimidate and silence others who would dare exercise that fundamental human right of the freedom of speech, but whether a journalist in France satirically writing about religion or a fire chief in Atlanta, Georgia writing about the sacred teachings of his faith, the silencing of either is a threat to the freedoms of all."
The Georgia Baptist Convention organized and held a rally at the Georgia State Capitol on Tuesday to get Cochran reinstated. Around 200 people showed up to the rally including the niece of Martin Luther King, Jr., Alveeda King, and Tony Perkins in support of Cochran and "religious liberty." King cited several Bible passages and bemoaned "this seemingly never-ending debate over sexuality," while Dr. J. Robert White, executive director of the Georgia Baptist Convention, held a Bible up in the air and called for a stronger stand on religious liberty. Cochran spoke last to his crowd of supporters.
Said Cochran:
"Indeed a strong statement has been made. All people groups are welcomed and embraced in the city of Atlanta, except the groups that believe the scripture regarding God's purpose for sex."
Cochran stated he's considering a lawsuit against the city of Atlanta, but he declined to answer questions about any legal groups he may have talked to. Mayor Reed fired Cochran on Jan. 6, announcing his decision at a City Hall press conference surrounded by his entire cabinet and local LGBT leaders. At the conference, Reed reiterated the city's nondiscrimination policy that prohibits prejudice based upon sexual orientation and gender identity, as well as race, color, religion, and sex. Reed said Cochran was given the option of resigning but refused to do so resulting in his termination. However, Reed says the true reason behind Cochran's firing was his judgment and ability to manage the department, and not because of his book's virulent, religious anti-gay rhetoric in a statement on his Facebook page.
Said Reed:
"I believe [Cochran's] actions, decisions, and lack of judgment undermined his ability to effectively manage a large, diverse workforce. Every single City of Atlanta employee deserves the certainty that he or she is a valued member of the team and that fairness and respect guide our employment decisions.
"His actions and his statements during the investigation and his suspension eroded my confidence in his ability to serve as a member of my senior leadership team."
However, Republican politicians are still attempting to pass "Religious Freedom" bills in the state. R-Rep. Sam Teasley filed HB 29 on Dec. 30, which would amend Title 50 and "preserve religious freedom," and State Sen. Josh McKoon vowed to file a bill on the matter as well. Teasley and McKoon's proposed versions of the bill last year but both failed. 
You can watch Cochran's statement to supporters at the State Capitol building, AFTER THE JUMP…