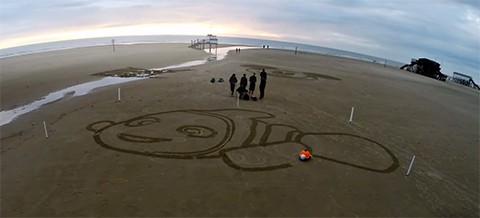 This little guy could have his own Pixar film. 
Created in conjunction with ETH Zürich, Disney's "Beachbot" brings precision and artistry to the world of robotics. Tech Crunch reports:
The robot — aptly called "Beachbot" — works by dragging a set of pins through the sand, sort of like a rake. Each pin is individually raisable, allowing the bot to draw lines of varying thicknesses. More pins down = thicker lines drawn.
The artist behind the robot starts a canvas by setting down poles, which the robot uses as markers to finely calculate its position. At that point, the robot can be passed an image file to draw automatically, or the artists can steer it manually.
The Beachbot moves on a set of large, soft wheels that Disney has dubbed "balloon wheels", allowing it to move across the sand without leaving tracks or screwing up whatever it's drawn previously.
Check out Beachbot in action, AFTER THE JUMP…