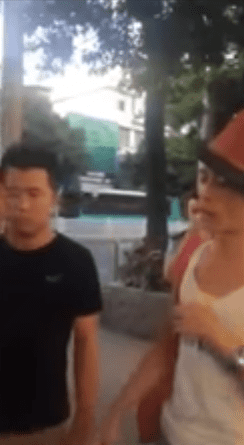 Mu Yi inadvertently became something of an internet celebrity last year when he was recorded on camera in the midst of a dispute with another man who is thought to be gay.
In the video Mu and a man in a red hat appeared to be arguing as a Nanshan police officer mediated the dispute. Mu, who headed the sales department of a Chinese design company, is now claiming that being in that video effectively outed him against his will and gave his employer reason to fire him.
"During that time (when the video went viral) I was a total wreck. I couldn't go out. I couldn't answer the phone. I even lost my job," Mu explained. "I was the victim to begin with, it doesn't make any sense for my company [to punish me.]"
Now Mu is suing his former employer with what his attorney describes as the first sexual-orientation discrimination lawsuit to be filed in China. Though homosexuality was decriminalized in China in 1997 and the Ministry of Health removed it from its list of mental illnesses in 2001, there are few legal protections in place for LGBT individuals.
Re-watch the video that first sparked Mu's controversy AFTER THE JUMP…