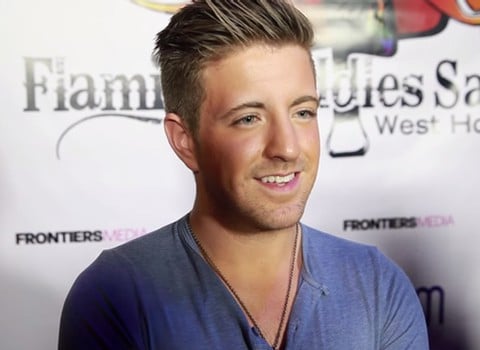 Out country singer Billy Gilman made an appearance this week at the opening of West Hollywood's Flaming Saddles, the city's first country-western bar, and spoke with PerezTV about the reactions he received after coming out of the closet last November:
"It was overwhelming. What really threw me back were the emails we got by the droves of young people in middle America, kind of nervous at finding their own voice because it's so conservative saying 'oh thank you we have a voice to guide us.' It just really took me back. The response has been unbelievable which I'm very grateful for, because it's important."
Gilman also talked about what spurred him to come out:
"I met my partner and my best friend and it just wasn't necessary for it to be hidden anymore…I'm not gonna lie. I was pretty scared. My parents are very conservative. It was as if nothing happened. Or mattered. Because we come form a place of love. Seeing that situation, I want to provide any kind of solace and respect and drive for any child that doesn't have that situation because there are plenty that don't have what I had…Hopefully I can provide that to other kids and be a voice for them."
Gilman also talked about what he has coming in the way of entertainment for 2015.
Watch, AFTER THE JUMP…