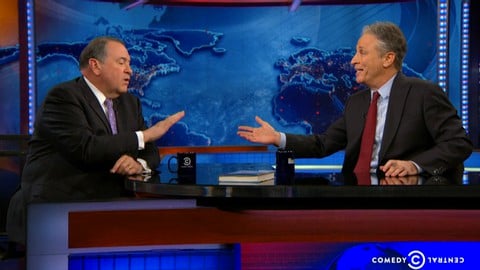 Jon Stewart called out Mike Huckabee in a Daily Show interview last night for his ongoing crusade against Beyoncé in the name of "wholesome" values.
Argues Huckabee, who has been attacking Obama for encouraging the singer in his daughter's lives:
"The thing that disturbs me when you see Beyoncé who is a role model to young girls…do you know any parent who has a daughter that says 'honey, if you make really good grades, someday when you're 12 or 13 we'll get you a stripper pole.'"
Stewart's response was to fire up a FOX News clip of Huckabee accompanying Ted Nugent on "Cat Scratch Fever", a rock classic generally thought to reference the transmission of syphilis but said by Nugent to simply be about "boys craving girls."
"That is a show in the middle of the day that children can watch," says Stewart. "Do you see my point? You excuse that type of crudeness because you agree with [Nugent's] stance on firearms. You don't approve of Beyoncé because she seems alien to you. Johnny Cash shot a man just to watch him die. That's some gangsta s–t."
Watch, AFTER THE JUMP…