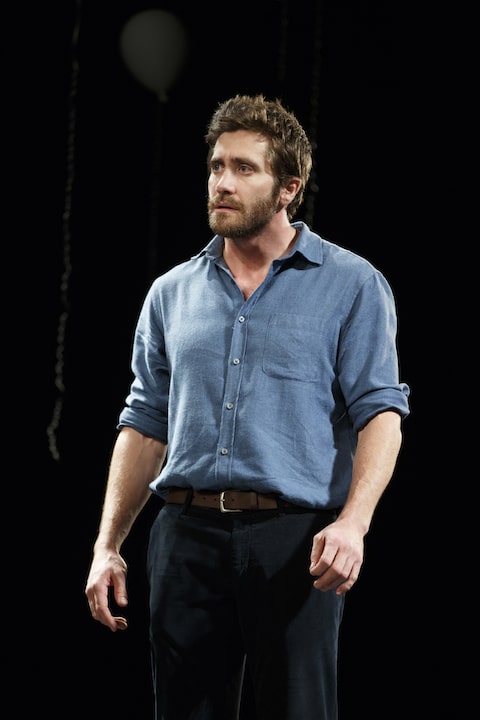 BY NAVEEN KUMAR
If you're short on reasons to love Ruth Wilson (Golden Globe winner for The Affair) or Jake Gyllenhaal (leading man of your dreams since the days of Donnie Darko), their magnetic performances in Nick Payne's engrossing new play Constellations, which opened on Broadway last night at Manhattan Theatre Club's Friedman Theatre, prove they're as formidably talented as they are beautiful, onstage as onscreen. (Yes, it seems some people really can have it all.)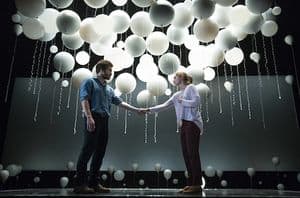 Payne's drama, which arrives in New York after a critically acclaimed production at London's Royal Court Theatre and West End transfer in 2012, delivers on its cosmic title—with a love story that is, quite literally, "timeless." Set in what the program deems "The Multiverse," the play's romance unfolds in a world of infinite—or at least multiple—possibilities. The theory Payne explores, which may be familiar to sci-fi fans and wide-eyed physicists alike (Wilson's character is among the latter), allows for the existence of parallel universes and eschews the notion of linear time. (Don't worry: The show runs a swift 70 minutes.)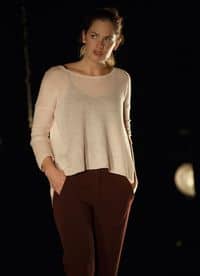 In this case, that means our two stars (get it?) together on a black stage, surrounded by white orbs (a striking scenic design by Tom Scutt), performing variations on a series of scenes that combine to form a multi-dimensional love story. What if he'd been married when they first met? What if she'd been less withholding on their first date? From minor shifts in mood to more divergent twists in plot, the repeated variations create a sort of rich, imaginative portrait of love in a world of possibilities.   
Under deft direction by Michael Longhurst, Gyllenhaal and Wilson bring fierce yet effortless dedication to every moment, shifting abruptly from one scene to the next with precision and grace. The overall affect is, at first, playful and engaging—the play's opening line, posed by Wilson's character: "Do you know why it's impossible to lick the tips of your elbows?" (They both eventually proceed to try.) And as details of the story gradually become clear, Payne's play turns increasingly thought provoking and ultimately quite moving.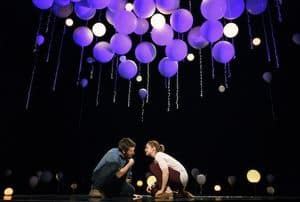 As Marianne, Wilson (whose London stage credits include starring opposite Rachel Weisz in A Streetcar Named Desire and Jude Law in Anna Christie, both at the Donmar Warehouse) balances goofy charisma with a palpable emotional depth. Gyllenhaal (who made his American stage debut Off Broadway in Payne's If There Is I Haven't Found It Yet) brings a more understated, hapless charm to the quieter Roland.
Payne's play, whose conceptual daring owes much to ground-laying works by Caryl Churchill (Top Girls, A Number), may leave some audiences scratching their heads. But, whether the drama's metaphysical questions interest you or not, these celestial bodies are well worth stargazing at. 
Recent theatre features…
Towleroad's Top 10 Plays and Musicals of 2014
Hugh Jackman Goes Fishing for Love in 'The River' on Broadway: REVIEW
John Cameron Mitchell on Returning to 'Hedwig': INTERVIEW
Maggie Gyllenhaal, Ewan McGregor, Cynthia Nixon Open in 'The Real Thing' on Broadway: REVIEW
Follow Naveen Kumar on Twitter: @Mr_NaveenKumar (photos: joan marcus)