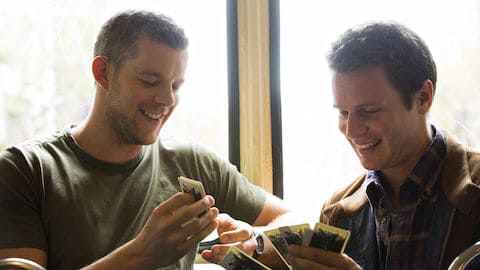 I'm still sort of baffled by folks who are continuing to be let down by the show's pace. I actually thought last week's episode was uncharacteristically dynamic. But for those who are still somehow inexplicably waiting for Looking to pump some adrenaline into its soft, cinematic rhythm, I hate to break it to you, but tonight's installment feels like much more of a return to season one form.
It was a return in a much more literal sense as well. Episode two of Looking's sophomore season saw the boys back to San Francisco, and back to the complexities of their current situations. 
See more thoughts from tonight's episode, AFTER THE JUMP …
It didn't take long for Patrick (Jonathan Groff)'s guilty conscience to catch up with him, did it? After last week's threshold crossing, where Patty went from a young man unable to hook-up in the woods in the show's pilot to getting it on with Kevin (Russell Tovey) against a tree, he's pushing himself even further out of his comfort zone. His admission that he had unprotected sex seemed very un-Patrick (even if he admitted it in a very awkward, very Patrick way). He's certainly not comfortable with the concept of having an affair (something he's convinced himself Kevin is guilty of, not him). But, it takes two to tango, and it's no surprise that Pat's anxiety over the ordeal starts to manifest itself in his rash. 
The title of tonight's episode, "Looking For Results," speaks to the HIV/AIDs narrative thread woven through all our stories. Whether it was Patrick's psychosomatic panic, Agustin (Frankie J. Alvarez) chasing after his HIV-positive bear, Eddie (Daniel Franzese), or Dom (Murray Bartlett) digging a little deeper into the history between Lynn (Scott Bakula) and his late boyfriend, HIV and AIDS permeated the actions of all three primary characters. Could a "gay show" exist without addressing HIV/AIDS? Should it?
Speaking of Dom, we're still talking about peri-peri chicken, but the dream of a full-fledged restaurant has been deferred. For now, he's exploring just starting by opening a window. The window, the open relationship, the specter of Lynn's ex hanging around — it's beginning to look like Dom's doing a lot of settling. If last season was about him deciding that he wanted more from life, this season's journey seems focused on exactly how much more he thinks he deserves.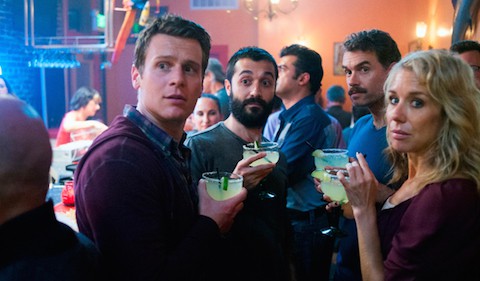 We got our first glimpse of a new character tonight, Malik (Bashir Salahuddin), when he hit on Doris (Lauren Weedman) over margaritas. Let's hope he helps flesh out her story. It's going to be interesting to see how she grows beyond comic relief.
Funny seeing Agustin run into the guy from the pilot he had a threesome with. Not so funny seeing how GHB left him in a heap outside a pupusa cart. Surely this must be rock bottom for Agustin. And who better to discover him than Richie (Raul Castillo)? Agustin was such a jerk to Richie when they met last season, and still Richie does the right thing and gets him home safe.
Compare that to Patrick's other object of desire. Oh, Kevin, how I love and loathe you. On the one hand, he and Patrick obviously have a very sincere connection. It's adorable to hear them talk about their childhoods and games. Of course, when Patrick suggests they start working on a gay game, Kevin tells him they need to keep it secret. Yet another secret. Kevin's paranoia about Patrick telling his co-worker about their affair and his reaction upon learning Patrick has told his buddies both start to reveal his less attractive side. (His backside, however, remains incredibly attractive.) Kevin's preoccupation with Patrick's friends thinking he's a prick has more to do with Kevin's ego than any of his guilt. 
Tell us what you thought of the episode, and enjoy this Russell Tovey dance party, below.