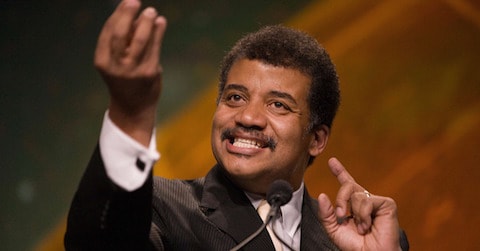 Astrophysicist extraordinaire Neil deGrasse Tyson hosted a lecture on the 15th at the Wilbur Theatre in Boston, and as  part of his presentation took some questions from the audience. One of those who spoke up was six-year-old "Young Jack" – which sounds like the name of a Scott Pilgrim character – who wants to be Neil deGrasse Tyson when he grows up, who enquired, "What's the meaning of life?"
Tyson, only mildly caught off guard by the question, went into a long and insightful response, saying in part,
To learn is to become closer to nature, and to learn how things work gives you power to influence events, gives you power to help people who may need it, the power to help yourselves, to shape a trajectory. So, when I think of 'What is the meaning of life?' to me that's not an eternal, unanswerable question. To me, that is in arm's reach of me every day. And so for you, at age six-and-three-quarters, may I suggest that for you, you should explore nature as much as you possibly can, and occasionally that means getting your clothes dirty because you might want to jump into puddles and your parents don't want you to do that. You tell them that I gave you permission.
The video is terrible – and vertical! – but the audio on the recording is just fine, so you can watch Tyson's full response AFTER THE JUMP…