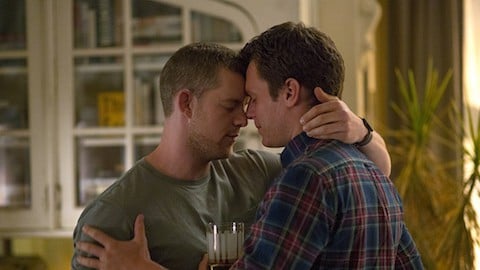 The third episode of Looking's second season, "Looking Top To Bottom," was a big step for Patrick (Jonathan Groff) and Kevin (Russell Tovey), but, maybe it's the Dutch courage talking, it wasn't my favorite episode.
One of the series' strengths is the chemistry between the actors. Even though characters came together (at the rugby game, at a breakfast, etc.) they still felt like they were enmeshed in separate stories playing out in proximity to one another, rather than playing off each other and adding dimension. It felt like a transition episode. Since the group started the season off all together, now they're starting to drift off into their own complications to play out the rest of the season. We'll consider this a set-up chapeter, and hopefully we'll see more overlapping in the coming weeks.
Dive in to some more thoughts on tonight's episode and share yours, AFTER THE JUMP …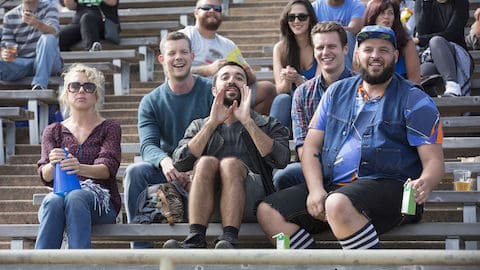 It was interesting to see Patrick and Kevin playing house for the weekend. There is a real ease in their relationship that you only rarely glimpsed in Patrick's interactions with Richie (Raúl Castillo). Their natural chemistry is what makes moments when Kevin's boyfriend comes up all the more jarring. There's a dramatic shift in energy in the scene at the rugby match after Eddie (Daniel Franzese) asks Kevin if he's single. It was the same sinking feeling after Kevin left Patrick in bed to answer a call from his boyfriend.
I'm not sure how often TV shows talk about enemas, but I'm guessing not too, too often. Patrick's "self-cleaning oven" line was one of the show's better one-liners. On a deeper level, I think all the the prep work Patrick put into being prepared only to have Kevin ask him to top is a small reminder how little control Patrick really has over this whole situation. The only certainty in this affair is that someone is going to get fucked in the end.
It was good to see Agustin (Frankie J. Alvarez) make amends with Richie. Not only did Richie deserve a hearty thanks for scooping Agustin off the sidewalk and escorting him home, but he was owed a pretty big apology for how Ag treated him while he was dating Patrick. I'm hoping his haircut and beard trimming carry a bit of symbolism for shedding some of his worse characteristics. Hopefully the transformation is deeper than that.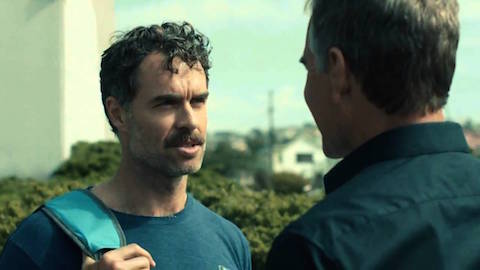 The cracks are continuing to show in Dom (Murray Bartlett) and Lynn's (Scott Bakula) relationship. Maybe it's the age difference keeping up with them, but the way Lynn compares Dom's apartment to a dorm is just so condescending. When Dom learns Lynn's set up to get him a manager job, he obviously feels betrayed.
More post-rugby shower scenes, please.
Anyone know where I can get that doggy sweater Kevin was wearing?
What did you think of last night's episode?