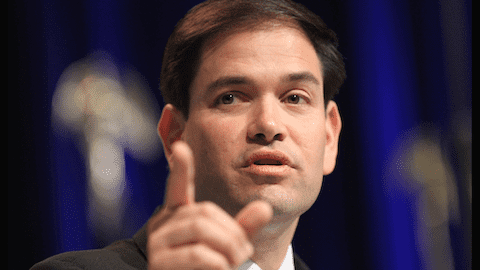 62% of the citizens of Florida passed a law banning gay marriage in the state back in 2008, but the recent court overturn of the ban has right-wing politicians flustered, including Senator Marco Rubio who is pulling out the tired "they shouldn't have done this judicially" argument. Said Rubio in an interview last Wednesday:
If they wanted to change that law, they should have gone to the legislature or back to the Constitution and try to change it. I don't agree we should be trying to make those changes through the courts.

[…]

While I believe that marriage should be between one man and one woman, while people want to change that law — and a lot of people apparently do – there is a way to do that. You go through the legislature, or you go on on the ballot, but I don't agree the courts have the power to do this.
He may not agree with it, but it's legal and proper, so Rubio is going to have to find another cause to flog.
Same-sex spouses of state employees, meanwhile, are now eligible for state coverage for health insurance and retirement benefits, Tallahassee Democrat reports:
"Employees whose marriages will be legally recognized in Florida as of Jan. 6, 2015, have qualifying status change event window between Tuesday, Jan. 6, 2015, through Friday, March 6, 2015, to enroll in a family plan," chief of operations Suzette Furlong said in a memo to personnel officers and benefit coordinators.