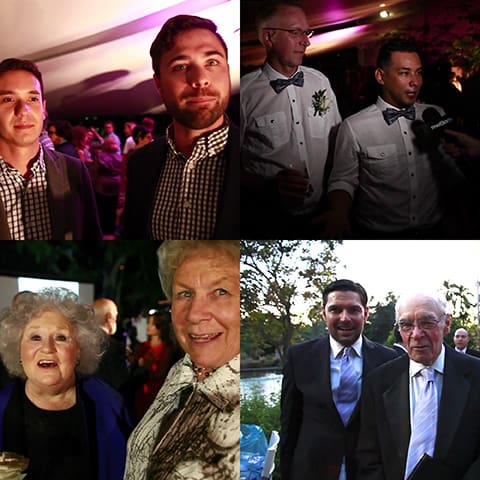 Since same-sex marriage began in Florida on Monday, there have been many joyous celebrations had by newlyweds in the Sunshine State. However, as is often the case in states that at one time banned same-sex marriage, many gay couples in Florida had married outside the state in places where same-sex marriage was legal since they could not due so at home. Yesterday, over 500 such couples gathered in Miami to renew their vows and make it official in Florida. Miami New Times reports:
The atmosphere at the Miami Beach Botanical Garden was ecstatic as the couples — who all had previously married in other states where gay unions were legal — officially re-tied the knot in South Beach.
More than 500 attended the event, where Mayor Phillip Levine promised to make Miami Beach an international LGBT destination where weddings are now part of the agenda.
"In Miami Beach, when it comes to LGBT rights, there's no question," he told the Miami Herald. "It's a yes vote."
Watch the celebrations, AFTER THE JUMP…
Gay Couples in Miami Beach Celebrate the Arrival of Marriage Equality from Voice Media Group on Vimeo.