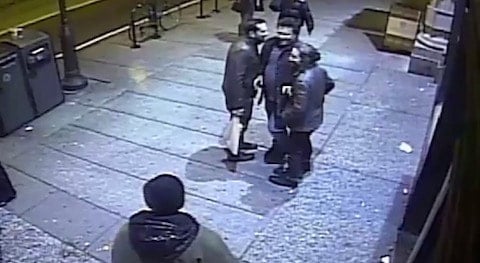 On December 27th a doorman and bartender from Philadelphia's 12th St. gay bar Tabu encountered a party of five individuals at approximately 2:40am near 12th and Chestnut streets. After a brief verbal altercation, the groups went in opposite directions, until two men from the larger group turned around to physically assault the Tabu employees, as Philly Mag reports.
After the scuffle the doorman was left unconscious for several minutes on the ground. The man was taken to the hospital and treated for injuries including bleeding on the brain. He has since been discharged from the hospital, but Tabu owner Jeffrey Sotland says that he is on a long road to recovery.
A benefit is being planned for Saturday, January 21st at 9pm at Tabu.
The descriptions of the assailants according to the Philadelphia police are as follows: 
Suspect #1: White male of Middle Eastern or Indian descent, 20 years-of-age, 6'0″-6'2″, 280 lbs., black hair, brown eyes, beard with mustache, wearing a black jacket with a gold colored zipper, and black jeans.

Suspect #2: White male, 20 years-of-age, 5'6″-5'8″, 140 lbs, light brown hair with a long pony tail, wearing a black leather jacket with several zippers, and blue jeans.
If you think you might be able to identify the assailants, you can view the surveillance video AFTER THE JUMP…