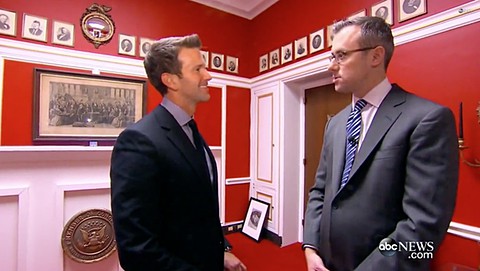 Republican representative Aaron Schock has been the subject of heightened scrutiny after reports surfaced pointing to his office spending tens of thousands of taxpayer dollars on a extravagant trips and concert tickets for his staffers. Interest in Schock's spending habits first piqued earlier this year after pictures of his newly-renovated, Downton Abbey-themed office began to circulate.
The office, which "takes inspiration" from Downton's iconic red sitting room, is estimated to have cost nearly $100,000 to design and furnish. Naturally, the extravagant room almost immediately caught the eye of the Citizens for Responsibility and Ethics in Washington (CREW) who filed an ethics complaint.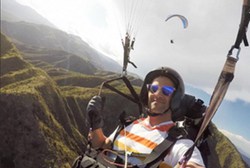 "I'm different. I came to Congress at 27. And so, I'm also not going to live in a cave," Schock told ABC news. "So when I post an Instagram photo with me with my friends, as Taylor Swift said, 'haters are gonna hate.'"
While Schock's luxurious tastes in decor raised eyebrows and reignited those pesky gay rumors, the latest accounts of his spending could have much larger legal implications. By the congressman's own admission, he frequently covers the travel expenses for his staffers during scheduled trips to events with constituents and fundraisers.
Those types of expenses are to be expected, but they also subject to strict rules and expected to be properly approved by the House Ethics committee. Most of Schock's, it would appear, were neither.
Many of the flights Schock and his staffers took appear to have used for travel were owned by campaign donors and thus were technically private flights, that House rules forbid lawmakers to pay for using office funds. Beyond dubious flight costs, Schock is also known to have paid for an outing with office interns to a sold out Katy Perry concert in Washington–again, with campaign funds.
As the media's interest has grown, it's become clear that Schock's mishandling of funds has been more than a common occurrence. A lengthy Politico report details a number of big budget purchases and trips abroad that seemingly have no congressional justification. In response to the rising allegations, Schock has lawyered up and enlisted the help of a D.C. public relations firm in preparation for a potential ethics investigation.
"After questions were first raised in the press, Congressman Schock took the proactive step of assembling a team to review the compliance procedures in his official office, campaign and leadership PAC," an office representative explained. "The purpose of the review is to identify any areas that need improvement and to assist with designing and implementing any changes. The congressman takes his compliance obligations seriously, which is why he took this proactive step to review these procedures."