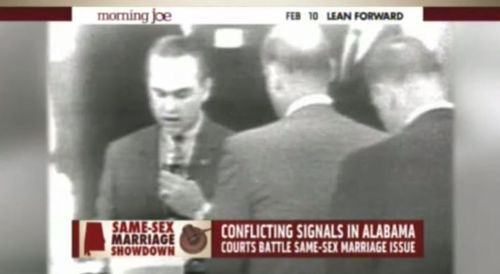 Earlier this week, MSNBC's Morning Joe brought on Ted Olson to ask him his thoughts on the same-sex marriage situation in Alabama and Chief Justice Roy Moore's obstructionist tactics in the slow march towards LGBT equality in the state.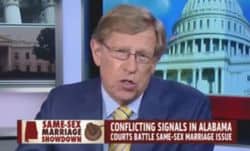 Said Olson:
"It does bring up images of Selma, Alabama and George Wallace denying rights to African-American citizens to go to school or cross a bridge and enter a parade."
Olson's comments come as Alabama Gov. Robert Bently said in an interview that he's aware of the parallels between what's happening now and what happened in the state 50 years ago.
TPM reports: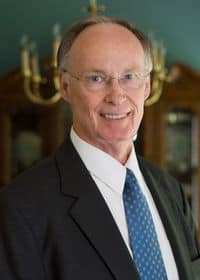 Gov. Robert Bentley, a Republican and a Southern Baptist, said he believes strongly that marriage is between one man and one woman, but that the issue should be "worked out through the proper legal channels" and not through defiance of the law.
The governor noted that Alabama is about to be in the spotlight again with the 50th anniversary of the Voting Rights Act of 1965, which was passed after civil rights marchers were attacked and beaten in Selma, Alabama — events chronicled in the Oscar-nominated movie "Selma."
"I don't want Alabama to be seen as it was 50 years ago when a federal law was defied. I'm not going to do that," Bentley said in an exclusive interview with The Associated Press.
"I'm trying to move this state forward."
Watch Olson's interview, AFTER THE JUMP…