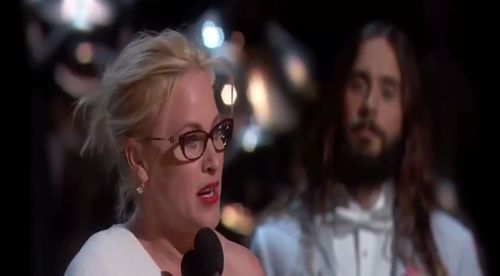 Last night's Oscars featured a number of memorable acceptance speeches, one of which was Patricia Arquette's for Best Supporting Actress. 
Arquette used her moment on stage to call for equal pay for women, saying in part:
To every woman who gave birth to every tax payer and citizen of this nation, we have fought for everybody else's equal rights. It's our time to have wage equality once and for all, and equal rights for women in the United States of America."
All said it was a great speech that brought many stars to their feet in cheers of support. The camera panning to Meryl Streep and Jennifer Lopez for reaction was priceless.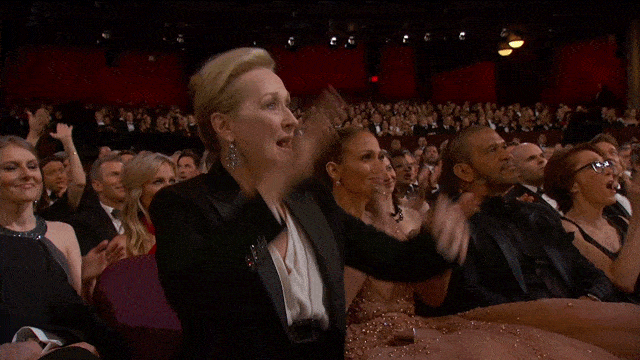 It was Arquette's comments backstage, however, that courted some controversy. 
Buzzfeed reports that according to the official transcript, Arquette expanded on her original statement by saying:
"So the truth is, even though we sort of feel like we have equal rights in America, right under the surface, there are huge issues that are applied that really do affect women. And it's time for all the women in America and all the men that love women, and all the gay people, and all the people of color that we've all fought for to fight for us now."
Twitter and sites like Fusion were quick to react to the backstage comments, with many raising concerns that Arquette's comments marginalized queer women and women of color. 
The idea that queers & POC have had their time in the struggle spotlight long enough. Eek. Ma'am. Congrats on yr Oscar tho. You are talented

— roxane gay (@rgay) February 23, 2015
Love that Patricia called for #equalpay. But remember: white women make 77¢ on the dollar, Black women 64¢ and Latinas 56¢ #Oscars2015

— Katie Hegarty (@HegartyKatie) February 23, 2015
Re: Patricia Arquette – sick of older white feminists othering woc/queer women/trans woman/disabled women/poor women (delete as appropriate)

— Jessie Donnelly (@JessieDonnelly) February 23, 2015
"Patricia Arquette — Who Just Won An Oscar — Asked Black Lesbians to 'Fight' for Gender Equality for White Women." I know! It's hilarious!!

— Faith Piffen (@SexYSuccubus) February 23, 2015
@PattyArquette You wounded women of colour and queer women greatly by not including them as women in own right, not add-ons to white women.

— Alexandra L. Smith (@AlexandraLSmit2) February 23, 2015
Watch Arquette's acceptance speech and backstage comments, AFTER THE JUMP…
What do you think?