Three House Republicans have now signed on to the Respect for Marriage Act, a bill introduced again last month that would fully repeal the Defense of Marriage Act, HuffPost reports: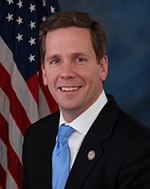 Rep. Robert Dold (R-Ill.) on Monday became the third Republican to sign on to the bill, called the Respect for Marriage Act. Freedom to Marry, a campaign focused on ending federal marriage discrimination, announced the news.
"A majority of Republicans under 50 and a supermajority of Republicans under 30 support the freedom to marry — alongside a majority of Independents and a supermajority of the American people," said Evan Wolfson, the group's president. "Congressman Dold is doing the right thing for his party, as well as for families and the American people."
A portion of DOMA has already been struck down by the U.S. Supreme Court in the Edie Windsor ruling last year.
The bill has 126 co-sponsors. Other Republicans who have signed on are Rep. Ileana Ros-Lehtinen (R-FL) and Rep. Richard Hanna (R-NY).