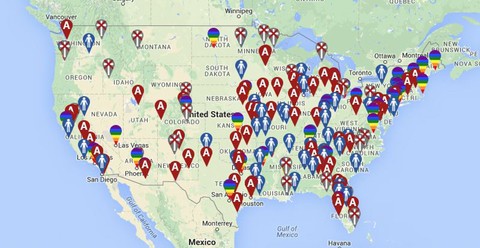 The American Family Association has always protested being listed as a hate group by the Southern Poverty Law Center, and despite them complaining about it their status remains because…well…they're a hate group. They deliberately spread lies, falsifications, and try to engender hate and discrimination against gays. This is provable, verifiable fact.
In response, the AFA has now created a "Bigotry Map" that points out organizations across the U.S. that promote the homosexual agenda, atheism, humanism, and are anti-Christian, and of course the SPLC is listed. Yes, the AFA has resorted to the "I'm rubber, you're glue" defense. Also, the AFA has highlighted that they don't understand the definition of "bigot" as an atheist group is no more a collection of bigots than the local religious group unless members of said group are actively discriminating against others for their differently-held beliefs.
Speaking on his show Focal Point, bigot Bryan Fischer is gleefully convinced that Right Wing Watch is in an absolute froth over this. As Joe Jervis points out, though, not so much.
You can watch Fischer congratulate himself AFTER THE JUMP…