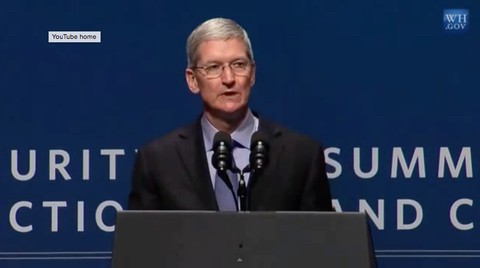 Apple CEO Tim Cook spoke to President Obama on Friday at a White House cybersecurity summit at Stanford University, emphasizing the importance of cybersecurity and touting Apple's efforts at protecting its users.
Said Cook:
"People have entrusted us with their most personal and precious information. We owe them nothing less than the best protections that we can possibly provide…We believe in human rights and human dignity, which is why we put so much thought into how our products are manufactured, not only how they are designed, and we believe deeply that everyone has a right to privacy and security."
He added:
"History has shown us that sacrificing our right to privacy can have dire consequences. We still live in a world where all people are not treated equally. Too many people do not feel free to practice their religion or express their opinion or love who they choose. Or love who they choose. A world in which that information can make the difference between life and death. If those of us in positions of responsibility fail to do everything in our power to protect the right of privacy, we risk something far more valuable than money – we risk our way of life."
Watch a clip and the full speech, AFTER THE JUMP…
Full speech: