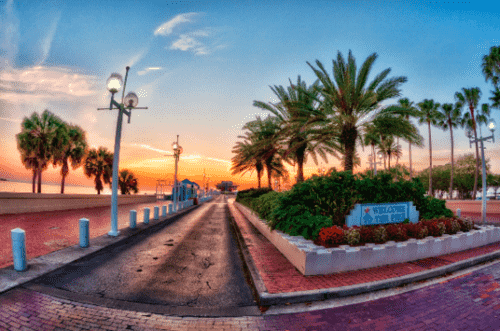 This weekly travel column is brought to you by ManAboutWorld, an immersive digital premium gay travel magazine from Billy Kolber, Ed Salvato, Kenny Porpora, and nearly 75 Global Correspondents.
St. Petersburg doesn't really feel like Florida. It's more like a city you'd find in the Pacific Northwest, with artists' lofts, mountain bikers and cute barista boys. Sometimes it feels like a Southern city, with street art murals and a new foodie wave and a downtown live music scene that's bursting out of almost every bar. It took the best that Florida had — the Southern gothic architecture, the palm trees, the beaches, and the sunshine — and left behind the homogeneous strip mall boredom that's come to define so much of the Sunshine State. It's not as international as Miami or as gay as Fort Lauderdale, but definitely worth adding to our gay travel map.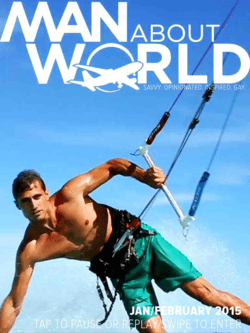 Here are the five things you can't miss:
1. Dali Museum: A world-class museum in a city of 250,000 is really unheard of, which is why this city, as small as it is, deserves to be in the same conversation as places like Portland and Asheville. The Dali's recent Dali/Picasso exhibit — the only one of its kind outside of Barcelona — was a stunner, and the upcoming surrealist exhibits are intriguing. The museum is right downtown, so if you're traveling for some art, stay at the nearby Birchwood. Makes for a great Sunday afternoon escape from the sun after a morning of strolling the farmer's market. 
2. Original Frenchy's Cafe: Frenchy's is the quintessential seafood shack. Located on a quiet street off the main drag in nearby Clearwater, this hole-in-the-wall is beloved by locals. Get the grouper cheeks or the grouper sandwich. There are a few iterations of Frenchy's (the Rockaway Grill nearby) so be sure you find your way to the original.
3. The Canopy @ The Birchwood: The only rooftop in town doesn't disappoint. On the top floor of The Birchwood Hotel,
  this sexy, stylish lounge has a bar, cabanas, fire pits, and unmatched views of downtown. They serve a limited menu, so we'd suggest coming up for either a quick appetizer before dinner, or an after dinner aperitif. Weekends bring a younger crowd, loud and alive but not sloppy. 
4. Central Avenue Antiques District: The entire main street of Central is dotted with antique shops, odd boutiques, and galleries to make it downtown St. Pete's most essential and unique shopping destination. Central Oddities is our favorite and a must-stop, but the entire block is worth a stroll.
5. Sunset Beach: The gay beach is about a five minute drive from the main drag of St. Pete Beach. It's fairly standard, but booming with cute gay boys in the warmer months. The shabby shack of a bar across the street, however, should be avoided. Dirty and unfriendly and sure to kill whatever good vibes you've built up on the sand.
For more opinionated travel information and inspiration, get ManAboutWorld Magazine on iTunes (iOS) or Google Play (Android). 
Top photo credit: Matthew Paulson