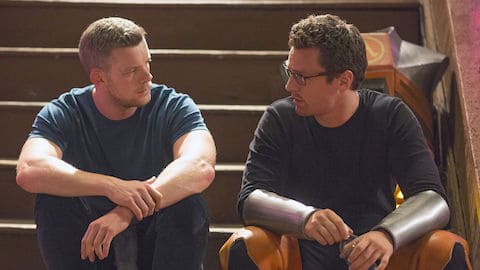 It's often easy to forget that Looking is technically considered a comedy, but tonight's episode, "Looking For Gordon Freeman," seemed to have more laughs than usual. Sure, there were the usual zingers from Daniel Franzese's Eddie ("You know a party's really awesome when everyone starts talking about AIDS,") and Doris (Lauren Weedman), but there were a few other laugh-out-lines from the rest of the cast, too (like when Murray Bartlett's Dom responded "Isn't that just for porn?" when asked about Tumblr). Then again, maybe everything Dom says is just funnier in a Sia He-Man wig.
Of course, all those small moments are nothing compared to the big, cringe-worthy tirade Patrick (Jonathan Groff) unleashed on a party stuffed with all the primary players.
Let's discuss the fallout and everything that led up to it, AFTER THE JUMP …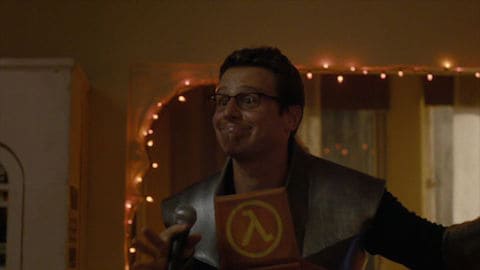 Make no mistake: Tonight was all about Patrick. It was great to see the gang all together for the Halloween bash, but we spent the majority of tonight's episode watching Patrick's precipitous fall from fun #Instagay to ranting trainwreck. It was clear from the beginning that tightly-wound Patrick would never be able to pull off a big, gay Halloween party without any drama, especially right after learning Kevin (Russell Tovey) might be moving back to Seattle. You could see him start to crack, starting with Agustin (Frankie J. Alvarez)'s inability to recognize his costume. Then there was Richie (Raúl Castillo) and Brady (Chris Perfetti), amped up by the success of Brady's recent article. Plus, no one was signing up for karaoke! Patrick was a ticking time bomb before Kevin and his man even arrived.
Although Patrick didn't spill the full details of the affair with Kevin, the moment that Dom (Murray Bartlett) and Agustin ended the speech must've raised Jon's suspicions. You could feel an extra layer of tension when he catches the two outside talking. Once Patrick shouts that final "I hope everything works out the way you want," Jon immediately questions Kevin about the meaning. It's going to be a long night for those two. 
Do you think Kevin's continued work on the gay battle game is his way to stay connected to Patrick?
We got a taste here of a deeper dive into the relationship between Dom and Doris. Next week's episode indicates we'll explore their history further, but it was interesting to see how Malik (Bashir Salahuddin) will force their relationship to evolve. As much as I loved Malik and Doris as Sonny and Cher, I sure would have loved to have seen her dressed up as She-Ra.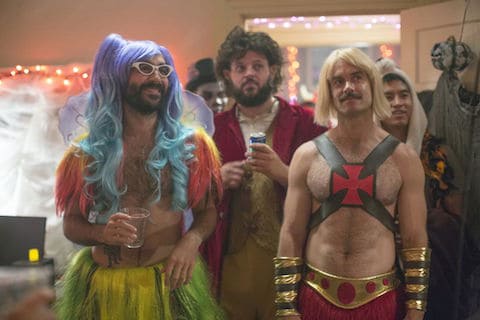 It was only a matter of time before Looking tackled the topic of Truvada. Tonight, our primary players engaged in a conversation around PrEP at the Halloween party. It was a good representation of the kinds of conversations happening among gay men and their friends, though, as usual, the show seemed more fixated on portraying the discussion as more of a "slice of life" moment, rather than pushing a particular point of view. We asked series creator Michael Lannan about Looking's approach to covering controversial topics like that when we chatted ahead of the season two premiere:
Towleroad: Part of Eddie's story introduces issues around HIV and serodiscordant couples. Obviously Truvada is a heated discussion point in the gay community right now. Was that something you knew you wanted to explore more?

Michael Lannan: We never approach the stories from a topical point of view. We don't like rip from the headlines and look at what's in the magazines or newspapers today and how can we make that a story. It's more that we focus on our characters and how they might interact with things that are happening in their world. Obviously HIV and AIDS is just tremendous legacy in the gay community. It's sort of impossible to avoid the story around those issues. I think we always want to find ways that current events really live in our characters everyday lives, rather than pick an event and say 'Lets tell the HIV story.'
What did you think of tonight's episode?