Montana Republicans on Monday foiled attempts by Democratic lawmakers to pass four tabled bills, one of which was an LGBT non-discrimination bill, and another a gay marriage bill. The attempts were made via "blast motion" which allows lawmakers to lift tabled bills out of committee, the AP reports.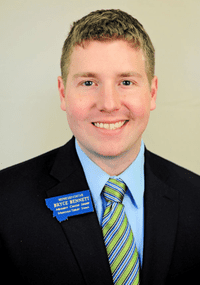 A motion by Senator Christina Kaufmann (D-Helena) failed 21-29 along party lines:
The measure would prohibit discrimination against gay, lesbian, bisexual and transgender people by adding the words "gender identity and expression and sexual orientation" to the state's Human Rights Act. The act currently bans discrimination based on race, creed, religion, color, sex, physical or mental disability, age or national origin in situations such as housing or employment.
Another bill dealt with gay marriage:
Rep. Bryce Bennett (pictured), of Missoula, moved to blast a tabled bill to the House floor that would remove same-sex couples from a list of prohibited marriages. House Bill 282 required 60 votes for a successful blast but failed by a vote of 43-57. Two Republicans, Rep. Daniel Zolnikov, of Billings, and Rep. Mike Miller, of Helmville, broke from their party and voted in favor.
A federal judge struck down Montana's ban on gay marriage in November. Gay couples began marrying the following day.