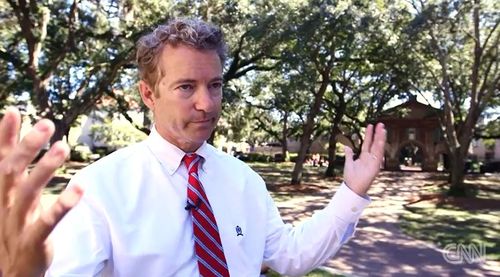 Senator Rand Paul (R-KY) is a legitimate medical doctor, specifically an ophthalmologist. He is, however, not an epidemiologist, which would explain in part why he's made an utter fool of himself in the discussion of vaccines. What explains it further is that Paul was once a member of the Association of American Physicians and Surgeons, a group founded in the 40's to "fight socialized medicine and to fight the government takeover of medicine," as The New Civil Rights Movement points out.
The group, which is still in existence, got an early start on the anti-vaccination movement and said in a 2007 press release that it "promised to do everything it can to support parents who refuse to immunize their children" because they too believed that vaccines cause autism. Also among the group's beliefs: HIV doesn't cause AIDS.
An advisor to Paul, Doug Stafford, tried to spin some damage control to BuzzFeed, telling them "he didn't know if Paul was still a member of the group but that he joined because it was a group of pro-life doctors. He said Paul does not endorse all the group's views."
Stafford neglected to say which views, precisely, the Senator does not endorse.