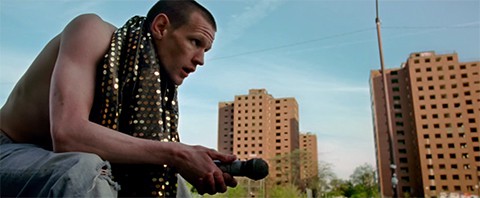 In a new lush trailer for his dystopian fairy tale, Ryan Gosling beckons viewers to his dark, intoxicating and ultimately cryptic Lost River. The film marks the actor's directorial debut and looks to be visually riveting if the trailer provides an accurate preview of the final product.
About "family and the fight for survival in the face of danger," Lost River follows Billy (played by Christina Hendricks), as a single of mother of two living in a virtually abandoned town (Lost River itself) who is "led into a macabre underworld in her quest to save her childhood home and hold her family together." Meanwhile all is not what it seems in this town on the edge: "[Billy's] teenage son Bones (Iain De Casestecker) discovers a mystery about the origins of Lost River that triggers his curiosity and sets into motion an unexpected journey that will test his limits and the limits of those he loves."
The film premiered at last year's Cannes Film Festival and garnered reviews that were decidedly mixed:
"Just think," tweeted The Guardian's Peter Bradshaw. "If Ryan Gosling hadn't been such a star actor, he'd never have allowed to direct *stares into space, screams*." The Toronto Star's Peter Howell countered, "LOST RIVER: Unholy Motors. Gosling's Motown fantasy blitzes eye & mind." Kate Muir of The Times of London dismissed it, saying, "Cripes. Ryan Gosling's Lost River is a lurid mash up of Lynch, Refn and Edward Hopper. In a bad way." But Hitflix's Gregory Ellwood enthused, "it doesn't all work but Ryan Gosling hits for the fences with #LostRiver and hits something gorgeous. An unexpected vision." 
The film also stars Eva Mendes and Saoirse Ronan.
Watch the latest trailer for yourself, AFTER THE JUMP…