In an interview for the February issue of GQ, 22-year-old crooner Sam Smith dished on everything from his music idols to the kinds of guys he goes for to why he still thinks dating apps like Grindr and Tinder are "killing romance."
Said Smith: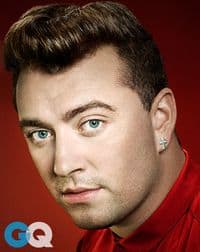 I feel so much more comfortable wanting what I'm never going to get. Like recently, I met two guys. One of them on paper is perfect and ticks all the boxes. The other is dangerous and—well, he ticks boxes actually, too…I've chosen him. I want that excitement. I want something that's unobtainable. I made a statement recently about how Grindr and Tinder and those dating apps are just killing romance. People are losing the ability to just walk up to people in a bar and say hello. Sex is on tap, isn't it, with apps like that? It may work for some people, but I miss the mystery. I find it much more sexy when someone's fully dressed in a suit and you've got to work to undress them. Do you know what I mean? Instead of them just immediately being naked for you. I sound like a complete old soul right now, but I am. I just feel like people need role models, you know, that are dressed.
Depending on when Smith was interviewed, the "dangerous" guy mentioned might be Jonathan Zeizel, Smith's former boyfriend. Smith announced at a concert late last month that the two had recently called it quits. 
In the interview, Smith also shot down the notion that his debut album In the Lonely Hour was "for gay people" –
…I am not Sam Smith, the gay singer. I am Sam Smith, the singer who happens to be gay. I preach all the time about being myself and being comfortable with myself, but if I'm honest, I struggle every day. I'm still figuring out who I am. I don't want to pretend I've got everything sorted out in my mind, because I really don't.
Check out the full interview here. 
[h/t just jared]