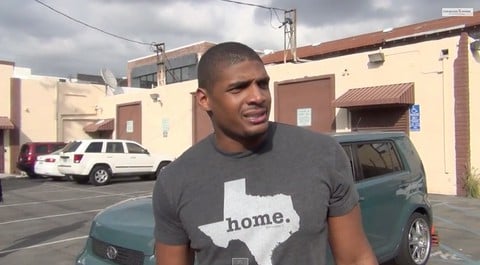 NFL free agent defensive end Michael Sam has been invited to the first-ever veteran combine, ESPN reports:
The veteran combine will be held March 22 in Tempe, Arizona, less than a week after Sam is set to start competing on the latest season of ABC's "Dancing With the Stars," which starts March 16.
Sam was chosen last year in the seventh round of the draft by the St. Louis Rams but the team released him before the season began. He was later signed to the Dallas Cowboys practice squad but then waived.
The Veteran Combine is similar to the one held for potential draftees but it is for current NFL free agents like Sam.
Following the announcement this week that Sam would compete on Dancing With The Stars, he released a statement on Twitter:
Very excited to be a part of @DancingABC. Football remains my unquestioned number 1 priority, however, while I continue to train and stay ready, I am ecstatic to participate in a fun, athletic competition like so many players before me have done. Filming this offseason is very flexible and allows me to be part of the veterans combine 3/22 if accepted or any other workouts. I'm looking forward to getting started with @PetaMurgatroyd and winning! Thanks for the support! #TeamSambatroyd
Paparazzi stationed outside Dancing With The Stars rehearsals caught up with Sam this week as he arrived to rehearsals with fiancé Vito Cammisano in tow, and asked him which was tougher, dancing or the combine.
"Both," he replied.
They also asked if he has nailed his first dance yet:
"I think it's a secret right now. It's different from football. Peta's (Murgatroyd, his partner) doing a great job. She's bearing with me. It's different than football, clearly. But I'm getting the hang of it. It's fun. Great workout."
And what kind of advice he had for gay kids nervous to come out.
"Be on your truth. On your truth."
Watch, AFTER THE JUMP…