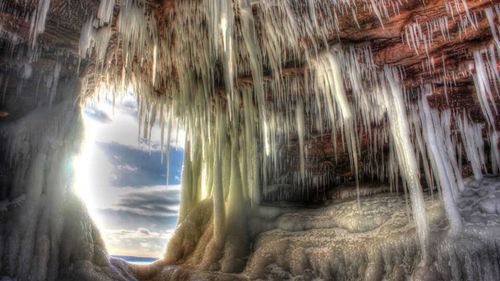 WISCONSIN: The Ice Caves of the Apostle Islands National Lakeshore off Lake Superior will be open THIS WEEKEND: "The ice caves are located several miles outside of Bayfield, Wis., on a 12-mile stretch along the coast. Those hoping to admire the dazzling ice displays have to walk at least a mile on lake ice and up to 6 miles, depending on how many caves they want to visit, says Neil Howk, assistant chief of interpretation and education for the Apostle Islands National Lakeshore." More on the ice caves HERE and on their Facebook page.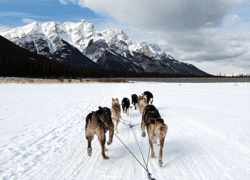 ALBERTA, CANADA: Ever wanted to go dog sledding? Notcot continues its series on great escapes in Alberta, Canada, and went on a 2-hour adventure: "Snowy Owl Sled Dog Kennel was created in 1983 by Connie and Charles Arsenault as one of the first dog sledding tours, and is now run by their kids, Jereme and Carlin. They have around 175 dogs, and tend to breed/adopt their dogs. While they are of racing stock, they really train them for tourist adventures – meaning they are all extremely people and camera friendly, and love the hugs and attention from all the visitors."
SCOTLAND: If you're thinking about getting married in Loch Lomond, Scotland, don't think about doing so at the Loch Lomond Waterfront wedding venue. They just turned away a gay couple. You might try one of these venues.
CAMBODIA: At least five foreign visitors have been deported this year for taking nude photos at the sacred sites of Angkor Wat: "Authorities have no tolerance for people stripping off at Angkor archaeological park, a sprawling Unesco World Heritage Site that drew 2 million visitors last year. The incidents are also upsetting to ordinary Cambodians, for whom the Khmer-era complex, built between the ninth and 15th centuries, holds enormous spiritual and historical significance."
NYC: Mashable offers 22 tips for navigating NYC like a pro for you travelers headed to the city that never sleeps.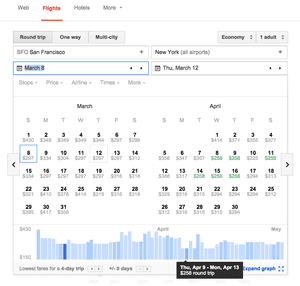 RESERVATION TIPS: Are you trip planning and want an efficient way to see the lowest fare for each day of a certain month, or see how fares fluctuate from season to season? Google Flights allows you to do that: "Regardless of which day you sit down to plan your trip, you can use the calendar in Google Flights to scroll through months and see the lowest fare highlighted for each day. If you're planning even further out, use the lowest fares graph beneath the calendar to see how prices may fluctuate based on the season, holidays or other events. You can also set preferences (such as direct flights only) and our calendar will adjust to show you just those flights and fares that fit the bill. Finally, if you can save more by using a nearby airport or flying on a different day, we'll show you a tip at the top of your results. "
SAFETY ALERT: Southwest grounded 128 planes this week after discovering that they had missed their inspections. Said the FAA: "The airline voluntarily removed these aircraft from service while the FAA works with Boeing and Southwest to evaluate a proposal that would allow the airline to continue flying the planes until the inspections are completed over the next few days."
SOCIAL COMMENTARY: UK Street artist/prankster Banksy has unleashed a new work in the form of a video which starts off as a travel ad, saying "Make this the year YOU discover a new destination." It is then revealed that the clip intends to expose the destruction caused in the Gaza Strip during last year's bombing.