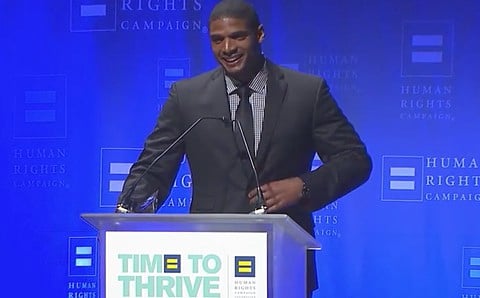 NFL free agent Michael Sam spoke this week at the 2015 Time to THRIVE Conference in Portland, Oregon where Ellen Page came out of the closet last year. The conference promotes safety, inclusion, and well-being for LGBTQ youth.
Sam delivered an inspiring speech which covered his youth:
"I grew up poor, I grew up afraid, I grew up alone. There was 8 members of my family. Out of 8 only 5 are still living. Two are currently in prison, the other two are working class Americans. I grew up afraid because the people I was supposed to love supposed to have my back, supposed to tell me that it's ok I'm here for you – I didn't have that. I grew up alone. The people who were supposed to be there for me weren't. I looked to football and sports to be my sanctuary."
Sam suspected he was gay, and drew laughs from the audience when he shared what is a very common experience for many in coming out:
"I pretty much knew when I go to college maybe I will experiment – I will see if maybe I'm not gay. Maybe it's a phase. But you know, after that first time I knew pretty damn sure I didn't like girls."
He also praised his fiancé Vito Cammisano for giving him strength:
"During those times where I felt like I was weak I had one person to tell me that there's no one in the world who can do what you can do. I think you were meant to do this – and this was Vito Cammisano my fiancé. Vito has been with me for a long time and actually it is because of Vito I am here tonight to talk to you guys. He is the only one who made me comfortable to be who I am, to be comfortable in my own skin. I owe him everything."
Sam said he had to live truth and not hide from who he is:
"I didn't want to be ashamed of myself when I come home and I see Vito and look him in the face and lie to myself – and I was like 'Vito I'm  gay to you but only in closed doors but I'm not gay to the world'. I manned up and a couple days ago we celebrated my first anniversary of me being comfortable with who I am and I'm proud of myself. I have no regrets."
Watch Sam's full inspiring speech, AFTER THE JUMP…