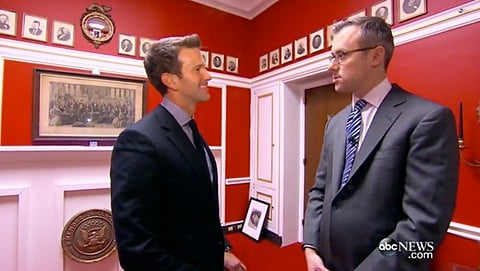 Jeff Zeleny of ABC News cornered Rep. Aaron Schock (R-IL) on Capitol Hill on the way to a meeting and asked him about his Downton Abbey-inspired offices and the way he paid for their redesign. Schock has been hit with an ethics complaint after the interior decorator Annie Brahler (who also said that the offices were inspired by Downton) told a Washington Post reporter that she had done them for free (accepting services as a gift is a violation of House rules).
Schock told Zeleny that he's "never been an old crusty white guy" and that's why the offices are so colorful, telling the reporter that his last offices were "Democratic blue".
Added Schock:
"I'm different. I came to Congress at 27. When I go take a personal vacation I don't' sit on the beach, I go do active things. And so, I'm also not going to live in a cave. So when I post an Instagram photo with me with my friends, as Taylor Swift said, 'haters are gonna hate.'"
Schock continues to claim that he has never seen an episode of Downton Abbey.
Watch Schock shake it off, AFTER THE JUMP…