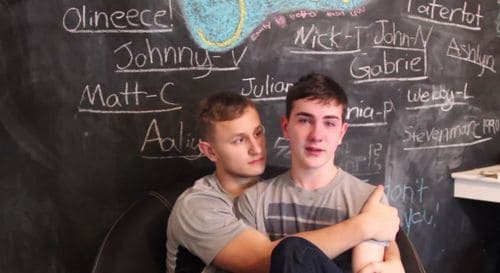 Earlier this week, Towleroad's Kyler Geoffroy broke the story about gay teen vlogger Austin Wallis, who posted an emotional video recounting how he was forced to leave his high school because of his sexual orientation. 
Since then, Wallis' video has been viewed more than 170,000 times. Today, we learn that the school that threatened Wallis with expulsion if he didn't go back in the closet is Houston's Lutheran High North, a small, private, religious school with 162 students.  
The Texas Observer reports: 
Dallas Lusk, head of school at LHN, sent the Observer a statement from Wayne Kramer, executive director of the Lutheran Education Association of Houston. The association covers three schools, including LHN, which has an enrollment of 162.

"Lutheran High North welcomes all students and their families to the LHN community," Kramer said in the statement. "We profess and proclaim our Christian beliefs with the foundations and authority taught in the Bible, all within the teachings of the Lutheran Church – Missouri Synod. We respectfully require students to adhere to these accepted values and moral beliefs. Sometimes, as in this case, students have to make choices and decide whether their beliefs align with our community and we respect their choices. We also respect student privacy and do not comment on any individual student or their actions."
The Observer reports that Lutheran High North also has a Morals Clause in its student handbook which states: 
"Lutheran High North reserves the right, within its sole discretion, to refuse admission of an applicant and/or to discontinue enrollment of a current student participating in, promoting, supporting or condoning: pornography, sexual immorality, homosexual activity or bisexual activity; or displaying an inability or resistance to support the qualities and characteristics required of a Biblically based and Christ-like lifestyle," the clause states.
In addition, the Observer reports that the school is part of the Lutheran Church—Missouri Synod, which takes this position on homosexuality: 
"The Missouri Synod believes the Bible teaches homosexual behavior is contrary to God's Word and will, and the LCMS seeks to minister to those who are struggling with homosexual inclinations," the denomination's website states.
Ken Upton, senior counsel at Lambda Legal, told the Observer that although he believes the school's actions qualify as abuse, Wallis has little recourse:
"The short answer is that if it's not a government school, if it's a strictly private school, the First Amendment doesn't apply to them," Upton said. "If they're a private school, then I think it's game over. They're entitled to discriminate."
Watch Wallis' video if you haven't already, AFTER THE JUMP …