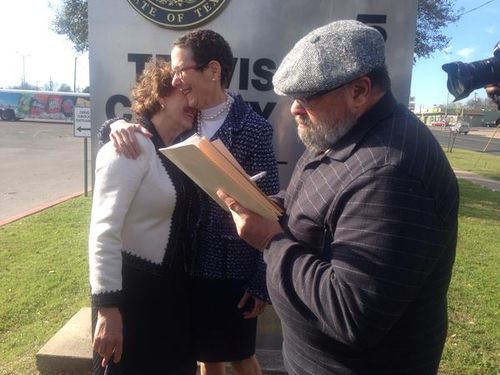 (twitter)
Following the wedding of Sarah Goodfriend and Suzanne Bryant this morning in Austin, Texas, the Texas Supreme Court has issued an emergency order blocking all future gay marriages. Goodfriend and Bryant were issued the license after a District judge ordered Travis County Clerk Dana DeBeauvoir to grant it.
The AP reports on the order from the Texas Supreme Court:
Thursday's ruling doesn't invalidate the marriage of the two women who were allowed to marry hours earlier based on a one-time court order issued for health reasons. One of the women has cancer.
Texas Attorney General Ken Paxton says he is seeking to void the marriage license through other means, though he didn't provide details.
Paxton requested a stay from the Texas Supreme Court shortly after the marriage took place this morning.