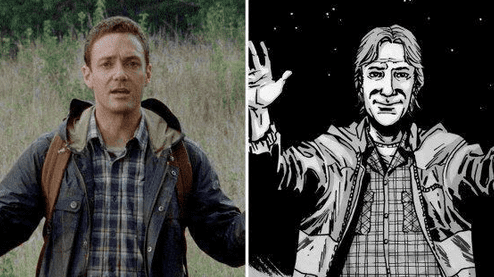 These past few weeks have been rather rough on fans of "The Walking Dead" as a number of key characters have met their untimely ends in the mouths of the undead. Last night's episode "Them" saw Rick and company mourning and dealing with the emotional fallout of losing two of their own and fighting both the elements and hordes of walkers.
When it was all said and done the episode was rather dour save for the introduction of a character many gay fans have been waiting for for a while now–Aaron, one of the survivors living within the Alexandria safe-zone. In the comic books Aaron works as a recruiter, scouting the safe-zone's surrounding area looking for other survivors who may be able to contribute to to the small, yet productive community that's sprung up in post-apocalyptic Virginia.
Robert Kirkman, the book's creator and the show's executive producer, first hinted that "The Walking" would see its first gay character this season late last year. At the time, many fans speculated (at Kirkman's suggestion) that Norman Reedus's character Daryl would be re-written as the series's queer character, though Kirkman eventually squashed that rumor.
If you need a quick refresher course on just who Aaron is and how he might play into the rest of this season of "The Walking Dead" check out Comicbook.com's quick rundown AFTER THE JUMP…