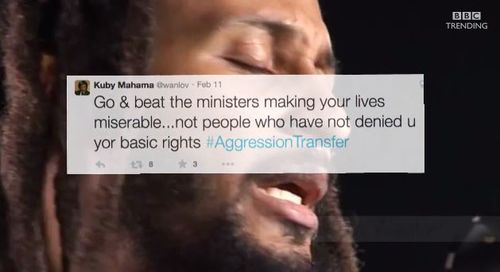 Ghanaian music promoter Kinto found himself the target of an angry homophobic mob in Ghana after being accused of meeting up with another man for sex. The attackers filmed the beating and posted it to social media – because violent homophobes tend not to be the brightest crayon in the box – where it not only got the attention of police, who arrested one assailant and said that Kinto had been "framed", but also of celebrities in Ghana's music industry.
Rather than sharing the opinions of most of their countrymen, the celebrities who spoke up not only condemned the attack on Kinto, but also began questioning and condemning Ghana's anti-gay laws themselves. Pop star Wanlov said:
It should be legalized. It shouldn't be against the law. 
Singer Efya spoke out on Twitter to condemn the attacks and homophobia in general:
Guy.the world is changing..get with the program..Gay ppl are here..Get with the program.It's who they are..so you be you..let them be them.🙏

— EFYA (@EFYA_Nokturnal) February 10, 2015
Social media in general is seeing an outbreak in this discussion, but amidst the condemnation of the attack itself still runs a current of homophobia. Rapper C-Real said in an online video that he doesn't suspect being gay in Ghana will ever be ok, at least not in his lifetime.
You can watch a video of BBC's coverage of the attack and response AFTER THE JUMP…(warning: violent imagery)