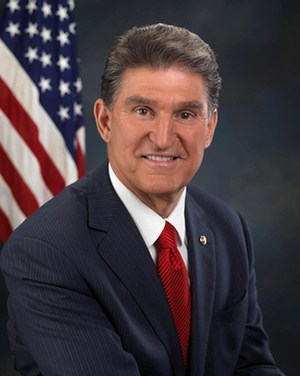 Sen. Joe Manchin (D-W.Va.) has not changed his position on same-sex marriage and will not sign an amicus brief being put together by Sen. Diane Feinstein (D-Calif.) and other Senate Democrats urging the U.S. Supreme Court to recognize nationwide marriage equality when it considers same-sex marriage later in the year. The Washington Blade reports:
Asked by the Washington Blade if Manchin would announce support for marriage equality and add his name to the brief, Jonathan Kott, a Manchin spokesperson, replied, "No. His position has not changed."
Now that former Sens. Mark Pryor and Mary Landrieu have been voted out of office, Manchin is the only Senate Democrat to remain opposed to same-sex marriage. He's designated as an opponent of gay nuptials on the Human Rights Campaign congressional scorecard, which cites a 2012 statement from a spokesperson saying Manchin believes marriage is between one man and one woman.
Manchin is unfazed by the dramatic shift in favor of marriage equality both across the nation and within his own party. The Blade notes that Manchin dodged the question of same-sex marriage earlier this year after President Obama historically called same-sex marriage a civil right in his state of the union address, saying he didn't remember Obama making such a grand and sweeping declaration in favor of marriage equality.
By remaining a stalwart opponent of same-sex marriage, Manchin is also directly opposed to his party's platform, which in 2012 stated,
"We support marriage equality and support the movement to secure equal treatment under law for same-sex couples. We also support the freedom of churches and religious entities to decide how to administer marriage as a religious sacrament without government interference."
Manchin previously voted against the repeal of DADT but came out in favor of ENDA.