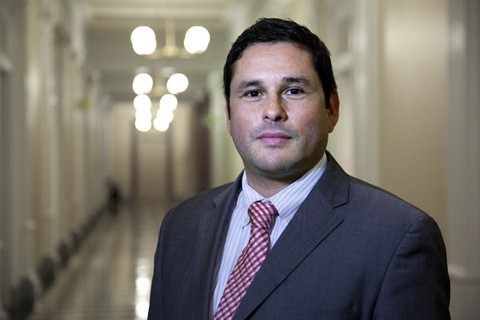 Last March, Democratic National Committee Chair Debbie Wasserman Schultz named longtime operative Raul Alvillar as the party's new political director. 
Alvillar, the first Latino to serve in the position, is also openly gay. 
He previously worked for Vice President Joe Biden and served as interim LGBT liaison for the White House for three months in 2011. Alvillar also worked on the Obama campaign in 2008 and for the John Kerry campaign in 2004, according to a story about his appointment in The Washington Blade.  
In an interview with Fox News Latino published Friday, Alvillar — who grew up in southern New Mexico — sounded off on LGBT rights:  
"Growing up LGBT in a small town, you didn't talk about it," Alvillar said. "Especially as a Hispanic male, there's this expectation that you will have a wife and three kids and a minivan … That's just how I grew up. Not knowing any other folks who were gay, you kind of feel like it's not a 'normal' thing.

"I didn't come out until I was in college, and even then I only came out to my sister," he admitted. "I didn't come out to my mother until I went back to New Mexico for my 10-year high school class reunion. I told her, 'There's something I have to tell you because I don't want you to feel I haven't been honest.' She was immediately concerned and then I told her, 'I'm gay.' She was like, 'Oh, okay,' and was totally relieved. She thought I was going to tell her I was sick."
But Alvillar notes that even in rural America, attitudes are changing:  
"I think people in Smalltown, USA," he said, "recognize that there are people who are their brothers and sisters and cousins – people who are important to them, who they embrace, who are everyday people – who happen to be LGBT."

He added, "Does that mean that the fight is over? No. Have we accomplished everything we need to for full inclusion in this country? No, there's still a lot that we need to do. But the country is a better place."
In fact, things have changed so much that Alvillar believes coming out actually helped him professionally. From an interview with Pink News last year: 
"I think for me, coming out was an advantage for me [in my job]. I think that the Democratic Party embraces diversity and is looking for that diversity. It was something that was advantageous to me. Not to say that it was the only reason why I'm in the positions I'm in. I've always said in the past that I'm Raul, I'm not gay Raul and I'm not Hispanic Raul. I'm just Raul. I'm here, I'm doing my job and we're doing our jobs to get Democrats elected, whatever ethnicity or whatever sexual preference you might be."
Watch a White House video of discussing his first job, AFTER THE JUMP …