CHECK OUT MIAMI'S NEWEST HOT VENUE, THE PEREZ ART MUSEUM
Readers rave about the Perez Art Museum's architecture and location but are somewhat lukewarm on the collection, which focuses on international art of the 20th and 21st centuries from the perspective of the Americas.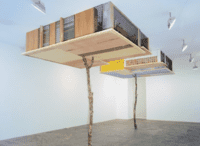 Pritzker Prize-winning architects Herzog & de Meuron designed the building and its beautiful hanging gardens which opened in 2013. Towleroad readers describe it as "totally stunning".  Visitors are advised to watch out for special exhibits because often there is a diamond in the rough.
The right-on-the-water setting, looking down Government Cut and overlooking the Port of Miami, contains beautiful hanging gardens and sits adjacent to a long breezeway which is beautiful for a picnic or a walk (we even saw a man walking his cat in a carriage there recently – now that's art).
Inset, Simon Starling's "Inverted Theme, USA (A House of a Songbird)".
Showing now:
Future Brown: Vernáculo featuring Maluca; Jedd Novatt in the sculpture garden; Global Positioning Systems exploring the intersection between globalization and history; Nicole Cherubini; Gary Simmons; Konstantin Grcic's Netscape; and Tàpies: From Within.

The view from PAMM (photo Andy Towle).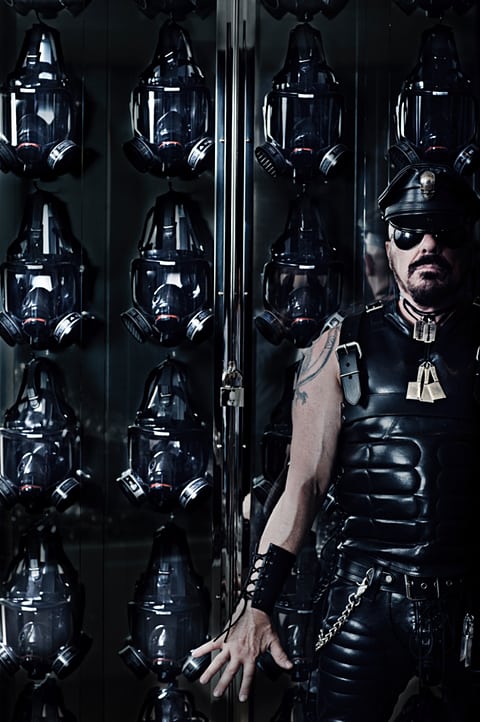 PERUSE SOME PETER MARINO CURATION AT THE BASS MUSEUM OF ART
Check out One Way: Peter Marino at the Bass Museum of Art:
One Way: Peter Marino explores the renowned American architect's multifaceted relationship with art. Recognized as a pioneer of cross-disciplinary practice, Peter Marino has been celebrated over the past four decades for his forward-thinking work that exists at the intersection of art, fashion and architectural design.
Curated by internationally renowned cultural agitator and curator Jérôme Sans, the exhibition explores the interplay between Marino's iconic architectural designs, his personal collection of contemporary art and his series of cast-bronze boxes. True to the architect's practice of creating bespoke environments at the intersection of art, design and fashion, One Way: Peter Marino will feature commissioned new work by artists Gregor Hildebrandt, Guy Limone, Farhad Moshiri, Jean-Michel Othoniel and Erwin Wurm.
Also, a Miami Herald review here. Through May 3, 2015.
Towleroad readers also love the Wolfsonian museum, which "has interesting and educational shows and architecturally fits in with South Beach. According to another reader it has "one of the coolest gilded gates I've seen."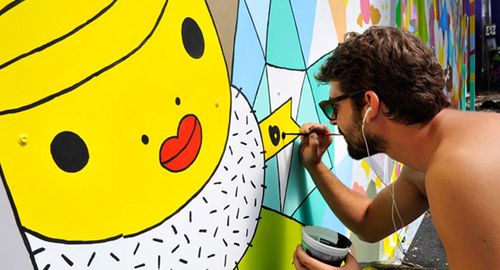 IMMERSE YOURSELF IN THE WYNWOOD WALLS AND ART DISTRICT
Wynwood is Miami's 'It' neighborhood right now and the Wynwood Walls celebrate street art and have transformed an old industrial area into a permanent art installation. 
The buildings are covered in graffiti art that is impressive in scale.  Filled with new restaurants, bars, and lounges Wynwood has a Brooklyn-vibe that is unexpected in Miami. It's also the main site for Art Basel which is the winter location for the internationally-renowned art show from Basel, Switzerland.
Writes one reader:
"Wynwood has become a hot-bed for everything cool – and it's where you want to spend an evening. If you plan it well, be here for the second Saturday of the month – it's art walk! Crowded streets, good spirits, food trucks, art, people watching – the best the cool Miami scene can offer."
Among those who have contributed to the Wynwood Walls: "Os Gemeos, Invader, Kenny Scharf, FUTURA 2000, Dearraindrop, FAILE, BÄST, Shepard Fairey, Aiko, Sego, Saner, Liqen, Nunca, Ben Jones, HOW & NOSM, Ryan McGinness, Jim Drain, Ara Peterson, Retna, Stelios Faitakis, Clare Rojas, The Date Farmers, avaf, ROA, Ron English, Jeff Soto, Logan Hicks, b., PHASE 2, Joe Grillo, COCO 144, Gaia, Vhils, Interesni Kazki, Neuzz, Swoon, Ben Wolf, David Ellis, Barry McGee, Brandon Opalka, Friends With You, DALeast, Faith 47, Santiago Rubino, Daze, Krink, Momo, Miss Van, Lady Pink, Fafi, Sheryo, Kashink, Maya Hayuk and Lakwena."
Wynwood's art district is in northern Wynwood and the fashion and design district, which contains high-end fashion boutiques and some public art (such as the sculpture below) lies along west 5th Avenue.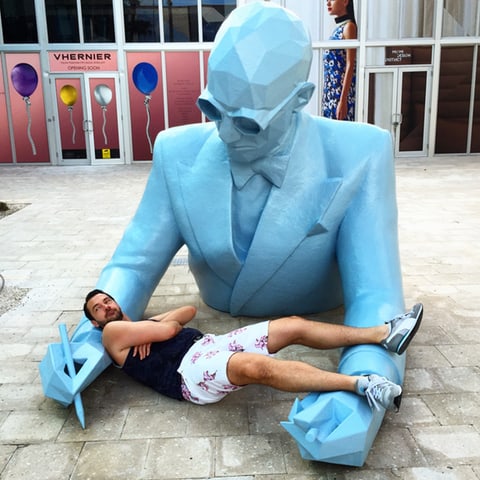 The reclining man is 6'6" for scale. (photo Andy Towle)
TAKE A WALK IN A BOTANIC GLASS GARDEN
Dale Chihuly's blown glass art has hardly had a more perfect setting than the tropical gardens at the Fairchild Tropical Botanic Garden. Now through May 31.
Of course it's beautiful to go during the day but there are also Tropical Chihuly Nights on Thursdays and Sundays on the park's 83 acres.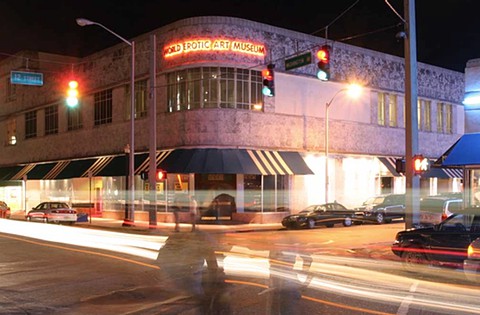 GET IN THE MOOD WITH SOME EROTIC ART
For some offbeat fun, the World Erotic Art Museum is right on South Beach at 1205 Washington Ave at 12th Street. The museum has more than 4000 works of international art and is known for its breadth and diversity.
If you don't have sex on your brain enough in Miami, this should do the trick.
Next stop, 5 Day Trips to Do in Miami Right Now….
Jump ahead to RESTAURANTS | COCKTAILS | HOTELS | NIGHTLIFE | BEACHES | DAY TRIPS | ART | FITNESS
If you have an exciting Miami travel tip to share with us, please email us at travel-at-www.towleroad.com and we'll check it out and consider adding it to this guide. Help us make it better!