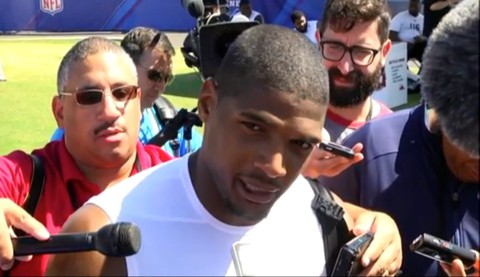 Michael Sam says he's confident he'll be playing professional football somewhere this year — whether it's in the NFL or the Canadian Football League.
After a somewhat disappointing performance at the NFL's Veteran Combine on Sunday, Sam was swarmed by the media. 
ESPN reports:  
"As long as I still have that will, as long as I'm still healthy and can play this game, you will continue to see me fighting to get in this league," he said. … 

"I am very confident that I will be playing football this year somewhere," Sam said. "So we'll leave that at that."

Sam was asked to clarify if the CFL was still an option. "If that's an opportunity, then I will take it," he said.
Cyd Zeigler at OutSports reports that no one asked Sam about being gay — which Zeigler says is a sign of progress. One reporter did ask about Sam's appearance on Dancing with the Stars — to which Sam replied, "Next question."
Sam's time in the 40-yard dash on Sunday was less-than-stellar, at 5.07 seconds, but he's never been known for his speed. 
Sam became the first openly gay player to appear in an NFL game last year, after he was drafted by the St. Louis Rams and before being cut. Sam later joined the Dallas Cowboys' practice squad before being cut again. 
Some have speculated that Sam — the former SEC co-defensive player of the year — isn't on an NFL team because he's gay. 
Hopefully, an NFL team will sign him again and give him another chance to prove himself in the preseason. 
But if not, or if he gets cut again, it sounds like Sam will be playing in the CFL. And if he becomes a star north of the border, questions about why he's not on an NFL team will become even more difficult for coaches and general managers to answer.  
Watch ESPN's report, AFTER THE JUMP …