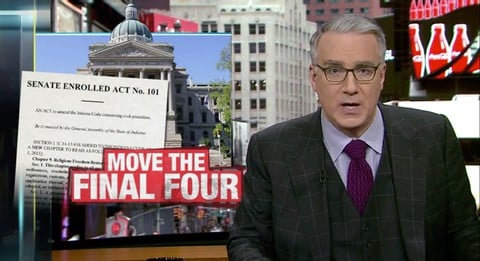 On his show last night, Keith Olbermann delivered a searing argument about why the NCAA must move the Final Four out of Indiana, arguing that sports has always been inextricably involved in politics.
Says Olbermann in his critique:
"The football league in this country and the college sports league in this country are tacitly supporting a law that allows those that have voluntarily chosen to join a group to discriminate and be prejudiced at the expense of those who may or may not have had any choice at all and the reality of course is not. The NCAA needs to move the Final Four out of Indianapolis and the NFL must warn Indiana and the Colts. Because ultimately you and I have a choice – do we participate in these laws, or do we do only as much as even the narrow prejudiced sports leagues of the 1930s, the 40s, and the 50s did. Opt out. Stay away, keep our business elsewhere until the laws of hate are gone."
He adds:
"Your choice is this. Do you endorse in this Indiana law a revival of the kind of hatred that opened the door for Jim Crow or do you repudiate it?"
Watch, AFTER THE JUMP…
The NCAA has thus far said that it will re-evaulate its relationship with the state going forward but it has resisted, despite calls from high-profile figures like Charles Barkley, removing this year's Final Four from Indiana.